Official Account
Group Manager
Google Professional Certificates
Gain the job-ready skills you need to launch your career in IT Support, Data Analytics, UX Design or Project Management.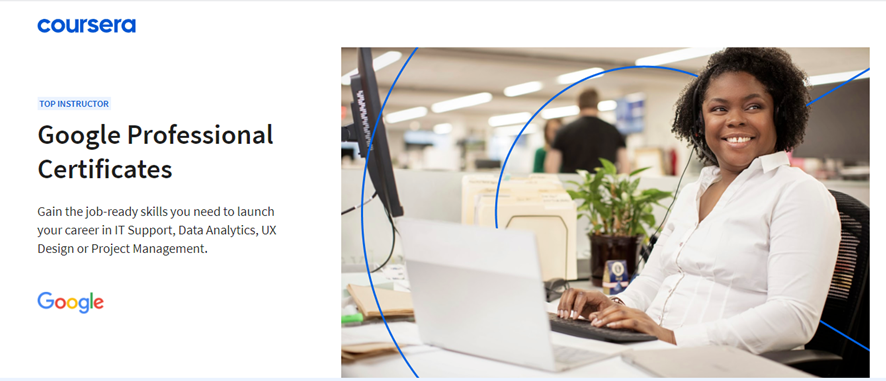 Google has recently launched three highly anticipated new entry-level Professional Certificates on Coursera! These new programs are designed for anyone, regardless of background, and will allow you to gain job-ready skills at your own pace, even with no relevant experience. Upon completion, you will receive a credential from Google and be connected with top employers currently hiring. Google Professional Certificates cost $39/month and include a 7-day Free Trial.
According to Grow with Google
82% of those who complete Google Professional Certificates report a positive career impact in six months.
More details on the new certificates are below:
Google UX Design Professional Certificate
This 7-course Professional Certificate program provides beginner level training in UX Design and the art of making technology easy to use. You will learn how to use Figma, Adobe XD, Google Slides, and other in-demand UX design tools like Sketch, Principle, and InVision. Designed for learners with little to no experience, the Google UX Design Certificate includes hands-on labs, quizzes and videos to help you solve real-world UX problems.
Enroll for Free >>
Google Data Analytics Professional Certificate
Build career confidence as you master essential data tools and technologies like SQL, Slides, Jupyter Notebooks, Tableau, and R in this 7-course Professional Certificate program.
Enroll for Free >>
Google Project Management Professional Certificate
This 6-course Professional Certificate program will focus on the foundations of traditional project management, while offering insight into agile project management given agile innovation techniques have spread beyond software development to a wide range of industries and functions.
Enroll for Free >>
See all Google Professional Certificates on Coursera >>