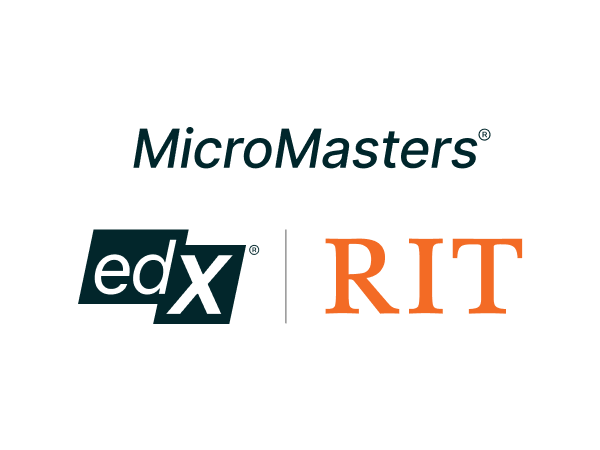 All edX
MicroMasters® programs
can now be applied towards the Master of Science in Professional Studies at Rochester Institute of Technology (RIT) with the newly launched
universal online credit pathway
. This pathway is designed to give MicroMasters program learners the option to earn an accelerated, customized graduate degree online.
How it Works
Enroll in any edX MicroMasters program and earn at least a B on all courses in the program.
Apply to RIT before you've finished your MicroMasters program to get connected with an advisor.
Once accepted*, you will be awarded up to 9 credits for your MicroMasters program credential toward the Professional Studies master's degree. Credits may vary by program.**
About MicroMasters Programs
MicroMasters programs provide ambitious learners with a flexible path to a master's degree and help them gain deep knowledge applicable to their careers along the way. These rigorous programs allow learners to experience graduate-level coursework from top universities without filling out an application, taking a standardized test, or committing to a full master's degree program. After completing and passing a MicroMasters program, learners can apply to a full master's degree in an associated university program.
About RIT's Master of Science in Professional Studies
An interdisciplinary professional studies master's degree that provides you with flexibility and independence to craft an individualized graduate program unique to your interests and career aspirations.
Explore edX's
MicroMasters programs
and learn more about the
RIT degree pathway
.
*Learners must successfully complete the MicroMasters program and meet all RIT admissions and transfer credit criteria.

**Credit will be granted for the MicroMasters program after the successful completion of one course in the M.S. in Professional Studies program.