The
'ExpertTrack'
on FutureLearn is a subscription-based service providing learners with on-demand access to career-boosting skills.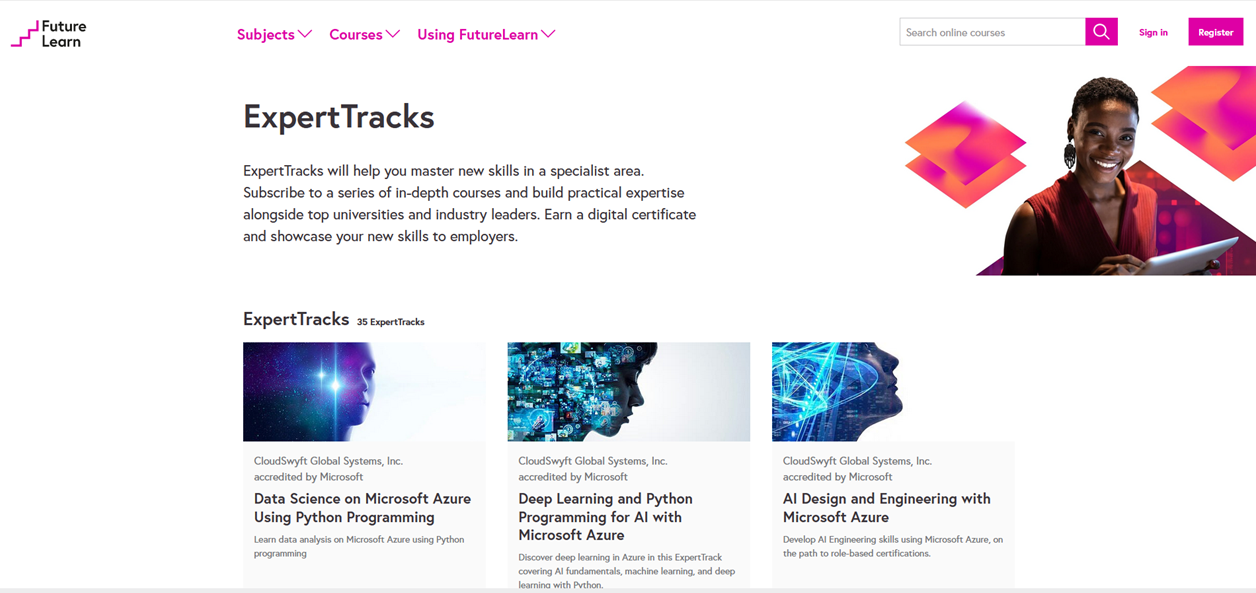 These in-depth programs cover a wide range of job-relevant subject areas from Fintech to Cyber Security, Data Analysis, Social Media Marketing, Psychology, Project Management, Entrepreneurship, Leadership and more. FutureLearn's ExpertTracks are created in partnership with world class higher education and industry partners including the University of Michigan, Coventry University, the University of Leeds, STEM Learning, AllBright, Monash University, Tableau, Salesforce and Xero.
See all ExpertTracks on FutureLearn >>
How ExpertTracks work
Join an ExpertTrack to master new skills in your chosen area
Work through a series of topic-focused courses at your own pace, and pass the final assessment to earn a digital certificate award which proves your expertise.
Join a free 7-day trial
Decide if the ExpertTrack is right for you with free access to the full suite of courses and assessments for a week.
Keep learning for £36/month - (€36 / US$39 / AU$59)
Pay a monthly subscription fee of £36 for as long as it takes you to complete the ExpertTrack. You can learn at your own pace and cancel at any time.
Earn digital certificates
Receive a certificate for every completed course and pass the final assessment to earn a digital certificate that you can share with your professional network.
Become an expert
Use your specialist training to progress further in your career or build expertise in areas you're passionate about.
See all ExpertTracks on FutureLearn >>