Founder at MoocLab
Staff member
Group Manager
LinkedIn, the world's largest professional network, recently published a list of the 29 most in-demand skills for 2018 based on hiring and recruiting activity on LinkedIn. Leadership was identified as the most in-demand soft skill, whereas Cloud Computing is the #1 hard skill employers are looking for.
MoocLab has put together a list of recommended MOOCs and shorter online courses to help you master these sought-after skills and stay ahead of the game.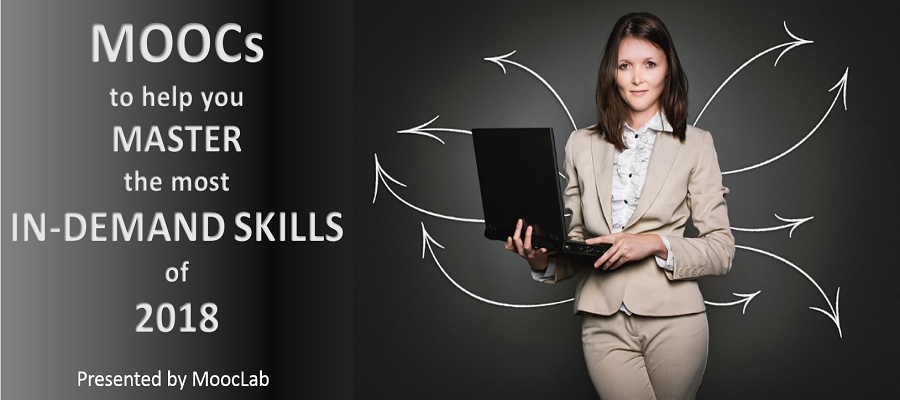 In order to cater for as many learning preferences as possible, we have hand-picked courses across multiple platforms, from multiple providers and of varying length and difficulty.
Read on to discover courses on Coursera, EdX, Futurelearn, Lynda.com and Udemy.
N.B.1.
Although many of our recommendations consist of course series involving several related courses for deeper learning (Coursera: Specializations, EdX: XSeries, Professional Certificate Programs, MicroMasters, Futurelearn: Programs), you can select individual courses within a series.
N.B.2.
Courses offered by the MOOC platforms Coursera, EdX and Futurelearn can be audited free of charge. There is a fee, however, if you wish to gain a verified certificate as proof of learning and, in some cases, gain access to graded assignments.
Most In-Demand Soft Skills
Most In-Demand Hard Skills
2. Statistical Analysis and Data Mining

Related Jobs: Business Analyst ($72,000), Data Analyst ($62,000), Statistician ($90,200)

Visit our Job Board to find jobs with MOOC-Friendly Employers Data Science Specialization

By The Johns Hopkins University via Coursera | 10 courses

Executive Data Science Specialization

By The Johns Hopkins University via Coursera | 5 courses

Applied Data Science with Python Specialization

By the University of Michigan via Coursera | 5 courses

Data Analysis and Presentation Skills: the PwC Approach Specialization

By PwC via Coursera | 5 courses

Data Mining Specialization

By the University of Illinois at Urbana-Champaign via Coursera | 6 courses

Big Data Specialization

By UC San Diego via Coursera | 6 courses

Data Science at Scale Specialization

By The University of Washington via Coursera | 4 courses


Microsoft Professional Program in Data Science

By Microsoft via EdX | 9 courses + Final Project

Microsoft Professional Program in Big Data

By Microsoft via EdX | 15 courses

Microsoft Excel for the Data Analyst XSeries

By Microsoft via EdX | 3 courses

Big Data MicroMasters

By University of Adelaide via EdX | 5 courses

Data Science: R Basics

By Harvard University via EdX | 4 weeks, 2 to 4 hours per week

Data to Insight: An Introduction to Data Analysis

By The University of Auckland via Futurelearn | 8 weeks, 3 hours per week

Introduction to R for Data Science

By Purdue University via Futurelearn | 4 weeks, 4 hours per week

Using Open Data for Digital Business

By Royal Holloway, University of London via Futurelearn | 3 weeks, 2 hours per week

Data Mining with Weka

By The University of Waikato via Futurelearn | 5 weeks, 3 hours per week

More Data Mining with Weka

By The University of Waikato via Futurelearn | 5 weeks, 4 hours per week

Advanced Data Mining with Weka

By The University of Waikato via Futurelearn | 5 weeks, 4 hours per week

Get Ahead In Data Science

Learning Path created by Lynda.com | 8 courses

Master Excel for Data Science

Learning Path created by Lynda.com | 8 courses

Master SQL for Data Science

Learning Path created by Lynda.com | 7 courses

Become a Data Scientist

Learning Path created by Lynda.com | 8 courses

Become a Data Visualization Specialist: Concepts

Learning Path created by Lynda.com | 8 courses

R Programming A-Z™: R For Data Science With Real Exercises!

By Kirill Eremenko, SuperDataScience Team via Udemy | 10.5 hours

Learning Python for Data Analysis and Visualization

By Jose Portilla via Udemy | 21 hours

SQL for Newbs: Data Analysis for Beginners

By A Course You'll Actually Finish, David Kim, Peter Sefton via Udemy | 3.5 hours

Business Analysis Fundamentals

By Jeremy Aschenbrenner | The BA Guide via Udemy | 9 hours
7. Data Presentation

Related Jobs: Graphic Designer ($45,000), Data Scientist ($113,000), Business Consultant ($83,000)

Visit our Job Board to find jobs with MOOC-Friendly Employers Data Visualization with Tableau Specialization

By University of California, Davis via Coursera | 5 courses

Data Analysis and Presentation Skills: the PwC Approach Specialization

By PwC via Coursera | 5 courses

Excel to MySQL: Analytic Techniques for Business Specialization

By Duke University via Coursera | 5 courses

Python Data Visualization

By Rice University via Coursera | 4 weeks, 5-7 hours per week

Applied Plotting, Charting & Data Representation in Python

By University of Michigan via Coursera | 1 course

Data Analysis & Visualization with Excel Professional Certificate Program

By Delft University of Technology (TU Delft) via EdX | 2 courses

Analyzing and Visualizing Data with Power BI

By Microsoft via EdX | 6 weeks, 2 to 4 hours per week

Analyzing and Visualizing Data with Excel

By Microsoft via EdX | 6 weeks, 2 to 4 hours per week

Become a Data Visualization Specialist: Concepts

Learning Path created by Lynda.com | 8 courses

Become a Data Visualization Specialist: Tools

Learning Path created by Lynda.com | 9 courses

Microsoft Excel - Data Visualization, Excel Charts & Graphs

By Chris Dutton via Udemy | 4.5 hours

Tableau Desktop - Super Easy Introduction

By Milos Zikic via Udemy | 3 hours

Learning Python for Data Analysis and Visualization

By Jose Portilla via Udemy | 21 hours
8. SEO/SEM Marketing

Related Jobs: Marketing Specialist ($49,000), Online Marketing Manager ($80,000), Advertising Manager ($61,200)

Visit our Job Board to find jobs with MOOC-Friendly Employers Search Engine Optimization (SEO) Specialization

By University of California, Davis via Coursera | 6 courses

Digital Marketing Specialization

By the University of Illinois at Urbana-Champaign via Coursera | 7 courses

Social Media Marketing Specialization

By Northwestern University via Coursera | 6 courses

Marketing in a Digital World MicroMasters

By Curtin University via EdX | 5 courses

Digital Marketing Professional Certificate Program

By The Wharton School of the University of Pennsylvania via EdX | 4 courses

Digital Skills: Digital Marketing

By Accenture via Futurelearn | 2 weeks, 2 hrs per week

SEO Foundations

By David Booth via Lynda.com | 3 hrs 27 mins

Learning SEO Tools

By Brad Batesole via Lynda.com | 1 hr 47 mins

Introduction to PPC with Google AdWords and Bing Ads

By Adriaan Brits via Lynda.com | 2 hours

SEO 2018: Complete SEO Training + SEO for WordPress Websites

By Arun Nagarathanam via Udemy | 8.5 hours

Marketing strategy to reach 1,000,000! SEO & social media

By Alex Genadinik via Udemy | 15 hours

How to Get Your First 1,000 Customers: The Complete Guide

By Evan Kimbrell via Udemy | 26.5 hours
11. Marketing Campaign Management

Related Jobs: Online Marketing Manager ($80,000), Digital Marketing Specialist ($52,000), Digital Marketing Manager ($77,000)

Visit our Job Board to find jobs with MOOC-Friendly Employers Marketing Mix Implementation Specialization

By IE Business School via Coursera | 5 courses

Marketing Strategy Specialization

By IE Business School via Coursera | 5 courses

Digital Marketing Specialization

By the University of Illinois at Urbana-Champaign via Coursera | 7 courses

Foundations of Marketing Analytics Specialization

By Emory University via Coursera | 6 courses

Introduction to Marketing

By The University of British Columbia via EdX | 6-7 weeks, 3-5 hours per week

Marketing Analytics MicroMasters

By The University of California, Berkeley via EdX | 4 courses

Digital Skills: Digital Marketing

By Accenture via Futurelearn | 2 weeks, 2 hrs per week

Marketing Analytics

By Darden School of Business, University of Virginia via Futurelearn | 5 weeks, 2 hrs per week

Create a Go-To-Market Plan

By Deirdre Breakenridge via Lynda.com | 1 hr 36 mins

Building Your Marketing Technology Stack

By David Booth via Lynda.com | 2 hrs 19 mins

Marketing Analytics: Segmentation and Testing

By Adriaan Brits via Lynda.com | 53 mins 4 secs

The Complete MailChimp Email Marketing Course

By Justin OBrien via Udemy | 2.5 hours

Marketing Management

By Prof. Sameer Mathur via Udemy | 4.5 hours

Marketing Mania: Fundamentals of Marketing Management

By Global Finance School via Udemy | 2.5 hours
12. Data Engineering and Data Warehousing

Related Jobs: Software Engineer ($95,000), Database Developer ($85,000), Data Analyst ($62,000)

Visit our Job Board to find jobs with MOOC-Friendly Employers Data Engineering on Google Cloud Platform Specialization

By Google Cloud Training via Coursera | 5 courses

Big Data for Data Engineers Specialization

By Yandex via Coursera | 5 courses

Data Warehousing for Business Intelligence Specialization

By The University of Colorado via Coursera | 5 courses

Using Databases with Python

By University of Michigan via Coursera | 5 weeks of study, 2-3 hours/week

SQL for Data Science

By University of California, Davis via Coursera | 4 weeks of study, 3-5 hours/week

Data Science and Engineering with Spark XSeries

By The University of California, Berkeley via EdX | 3 courses

Implementing ETL with SQL Server Integration Services (SSIS)

By Microsoft via EdX | 6 weeks, 2 to 4 hours per week

Delivering a Data Warehouse in the Cloud

By Microsoft via EdX | 6 weeks, 2 to 3 hours per week

Delivering a Relational Data Warehouse

By Microsoft via EdX | 6 weeks, 2 to 3 hours per week

Data Science Foundations: Data Engineering

By Ben Sullins via Lynda.com | 53 mins 24 secs

SQL Essential Training

By Bill Weinman via Lynda.com | 3 hrs 27 mins

Transitioning from Data Warehousing to Big Data

By Alan Simon via Lynda.com | 1 hr 50 mins

Data Warehouse Development Process

By Sid Inf via Udemy | 4 hours

Learn Database Design with MySQL

By Eduonix Learning Solutions via Udemy | 6.5 hours
13. Storage Systems and Management

Related Jobs: Database Administrator ($91,000), System Administrator ($68,800)

Visit our Job Board to find jobs with MOOC-Friendly Employers Cloud Computing Applications, Part 1: Cloud Systems and Infrastructure

By University of Illinois at Urbana-Champaign via Coursera | 4 weeks, 2-3 hours of video lectures per week

Computer Security and Systems Management Specialization

By The University of Colorado via Coursera | 4 courses

G Suite Administrator Fundamentals

By Google Cloud via Coursera | 1 week of study, 15-30 hours/week

Windows Server 2016: Basic Storage

By Microsoft via EdX | 5 weeks, 4 to 5 hours per week

Windows Server 2016: Advanced Storage

By Microsoft via EdX | 4 weeks, 3 to 4 hours per week

Microsoft Azure Storage

By Microsoft via EdX | 6 weeks, 2 to 4 hours per week

Introduction to NoSQL Data Solutions

By Microsoft via EdX | 3 weeks, 2 to 3 hours per week

Microsoft Azure: Design an Application Storage and Data Access Strategy

By Sharon Bennett via Lynda.com | 1 hr 6 mins

Linux: Storage Systems

By Kevin Dankwardt via Lynda.com | 3 hrs 30 mins

Google Drive Essential Training

By Jess Stratton via Lynda.com | 1 hr 30 mins

NetApp Storage Clustered Data ONTAP Complete

By Neil Anderson via Udemy | 22.5 hours

AWS MasterClass: Storage & CDN - AWS S3 & AWS CloudFront

By Manuj Aggarwal, TetraTutorials Team via Udemy | 3 hours

Master Google Drive

By John Meixner via Udemy | 1.5 hours
14. Electronic and Electrical Engineering

Related Jobs: Electrical Engineer ($81,000), Electronic Engineer ($88,400)

Introduction to Electronics

By Georgia Institute of Technology via Coursera | 1 course

An Introduction to Programming the Internet of Things (IOT) Specialization

By the University of California, Irvine via Coursera | 6 courses

Power Electronics Specialization

By the University of Colorado Boulder via Coursera | 6 courses

Plastic electronics

By École Polytechnique via Coursera | 1 course

Circuits and Electronics 1: Basic Circuit Analysis

By Massachusetts Institute of Technology via EdX | 5 weeks, 6 hours/week

Circuits and Electronics 2: Amplification, Speed, and Delay

By Massachusetts Institute of Technology via EdX | 5 weeks, 8 hours/week

Electronic, Optical and Magnetic Properties of Materials

By Massachusetts Institute of Technology via EdX | 15 weeks, 12 hours/week

Circuits and Electronics 3: Applications

By Massachusetts Institute of Technology via EdX | 7 weeks, 8-10 hours/week

Electrical Engineering: Sensing, Powering and Controlling

By The University of Birmingham via EdX | 3 weeks, 3 hrs per week

AutoCAD Electrical Essential Training

By Shaun Bryant via Lynda.com | 7 hrs 57 mins

Learning MATLAB

By Patrick Royal via Lynda.com | 1 hr 30 mins

Electronics Foundations: Semiconductor Devices

By Barron Stone via Lynda.com | 4 hrs 8 mins

Electronics S1W1: Basic Terminology and Schematic Symbols

By Richard Vannoy II via Udemy | 3 hours

Arduino Programming and Hardware Fundamentals with Hackster

By Shawn Hymel, ~ Hackster.io ~ via Udemy | 7 hours

Beyond Arduino: Electronics for Developers & Makers - (GPIO)

By Eduardo Corpeño, Marissa Siliezar via Udemy | 6 hours
15. Algorithm Design

Related Jobs: Software Engineer ($95,000), Lead Software Engineer ($120,000), Lead Developer ($109,000)

Visit our Job Board to find jobs with MOOC-Friendly Employers Deep Learning Specialization

By deeplearning.ai via Coursera | 5 courses

Machine Learning Specialization

By The University of Washington via Coursera | 4 courses

Advanced Machine Learning Specialization

By National Research University - Higher School of Economics (HSE) via Coursera | 7 courses

Machine Learning

By Stanford University via Coursera | 1 course

Machine Learning

By Georgia Tech via EdX | 14 weeks, 8 to 10 hours per week

Applied Machine Learning

By Microsoft via EdX | 6 weeks, 3 to 4 hours per week

Principles of Machine Learning

By Microsoft via EdX | 6 weeks, 3 to 4 hours per week

Algorithms and Data Structures in C#

By Microsoft via EdX | 3 weeks, 3 to 5 hours per week

Introduction to Code Objects and Algorithms Professional Certificate Program

By Microsoft via EdX | 3 courses

Artificial Intelligence MicroMasters

By Columbia University via EdX | 4 courses

Algorithms and Data Structures

By The University of California, San Diego via EdX | 8 courses

Machine Learning Fundamentals

By The University of California, San Diego via EdX | 10 weeks, 8 hours per week

Algorithms

By IITBombay via EdX | 6 weeks, 6 to 8 hours per week

Machine Learning & AI Foundations: Value Estimations

By Adam Geitgey via Lynda.com | 1 hr 4 mins

Machine Learning & AI Foundations: Decision Trees

By Keith McCormick via Lynda.com | 1 hr 16 mins

Machine Learning & AI: Advanced Decision Trees

By Keith McCormick via Lynda.com | 1 hr 16 mins

Machine Learning A-Z™: Hands-On Python & R In Data Science

By Kirill Eremenko, Hadelin de Ponteves, SuperDataScience Team via Udemy | 40.5 hours

Data Science, Deep Learning, & Machine Learning with Python

By Sundog Education by Frank Kane, Frank Kane via Udemy | 12 hours

Learning Algorithms in JavaScript from Scratch

By Eric Traub via Udemy | 3.5 hours
17. Shell Scripting Languages

Related Jobs: Linux System Administrator ($75,000), System Engineer ($90,000), Java Developer ($80,000)

Visit our Job Board to find jobs with MOOC-Friendly Employers The Unix Workbench

By Johns Hopkins University via Coursera | 4 weeks, 4 hours per week

Introduction to Scripting in Python Specialization

By Rice University via Coursera | 4 courses

Windows PowerShell Basics

By Microsoft via EdX | 6 weeks, 4 to 5 hours per week

Powershell Security Best Practices

By Microsoft via EdX | 4 weeks, 2 to 4 hours per week

Introduction to Linux

By the Linux Foundation via EdX | 40 to 60 hours

Learning Linux Shell Scripting

By Sarath Lakshman, Shantanu Tushar via Lynda.com | 8 hrs 19 mins

Perl 5 Essential Training

By Bill Weinman via Lynda.com | 5 hrs 26 mins

Learning PowerShell 5

By Matt Hester via Lynda.com | 1 hr 14 mins

Shell Scripting: Discover How to Automate Command Line Tasks

By Jason Cannon via Udemy | 2 hours

Linux Shell Scripting: A Project-Based Approach to Learning

By Jason Cannon via Udemy | 6 hours

Linux Shell Programming for Beginners

By Eduonix Learning Solutions, Eduonix-Tech via Udemy | 9.5 hours
24. Economics

Related Jobs: Business Development Manager ($99,000), Auditor ($56,000), Research Analyst ($56,400)

Visit our Job Board to find jobs with MOOC-Friendly Employers Managerial Economics and Business Analysis Specialization

By The University of Illinois at Urbana-Champaign via Coursera | 7 courses

Microeconomics: The Power of Markets

By University of Pennsylvania via Coursera | 5 weeks of study, 4-7 hours/week

Microeconomics: When Markets Fail

By University of Pennsylvania via Coursera | 1 course

Microeconomics Principles

By University of Illinois at Urbana-Champaign via Coursera | 1 course

The Power of Macroeconomics: Economic Principles in the Real World

By University of California, Irvine via Coursera | 13 hours

Economics: Consumer Demand

By Babson College via EdX | 4 weeks, 4 to 6 hours per week

Introduction to Economics: Macroeconomics

By Seoul National University via EdX | 6 weeks, 4 to 5 hours per week

Principles of Economics with Calculus

By Caltech via EdX | 10 weeks, 9 hours per week

Managerial Economics

By Stefan Michel via Lynda.com | 1 hr 20 mins

Applied Economic Forecasting with Big Data

By Michael McDonald via Lynda.com | 1 hr 37 mins

Blockchain Basics

By Jonathan Reichental via Lynda.com | 57 mins

Economics: Macroeconomics 101 for Managers and Executives

By Davis Jones, MBA via Udemy | 1 hour

Understanding Macroeconomics for University and Business

By Dr. Saifedean Ammous via Udemy | 2.5 hours

Principles of Microeconomics : Elasticity

By Shubham Kalra via Udemy | 1 hour
25. Database Management and Software

Related Jobs: Database Specialist ($53,000), Database Administrator ($91,000)

Visit our Job Board to find jobs with MOOC-Friendly Employers Database Management Essentials

By University of Colorado System via Coursera | 7 weeks of study, 4-6 hours/week

Managing Big Data with MySQL

By Duke University via Coursera | 5 weeks, 8-12 hours per week

Big Data Modeling and Management Systems

By University of California, San Diego via Coursera | 6 weeks of study, 2-3 hours/week

Building Database Applications in PHP

By University of Michigan via Coursera | 5 weeks, 8-10 hours per week

DevOps for Databases

By Microsoft via EdX | 4 weeks, 2 to 4 hours per week

Databases in Azure

By Microsoft via EdX | 4 weeks, 2 to 4 hours per week

Microsoft SQL Database Development XSeries

By Microsoft via EdX | 4 courses

SQL Server Database Administration XSeries

By Microsoft via EdX | 4 courses

Database Systems Concepts and Design

By The Georgia Institute of Technology via EdX | 14 weeks, 8 to 10 hours per week

Database Foundations: Administration

By Adam Wilbert via Lynda.com | 1 hr 14 mins

Microsoft SQL Server 2016: Installation and Administration

By Gerry O'Brien via Lynda.com | 2 hrs 35 mins

Oracle 12c Database: Administration

By David Yahalom via Lynda.com | 3 hrs 58 mins

Oracle DBA 11g/12c - Database Administration for Junior DBA

By Amarnath Reddy via Udemy | 11 hours

Db2 LUW - Database Administration & Certification Workshop

By Mohammad Adnan Khan via Udemy | 38.5 hours

Introduction to Basic Database Concepts

By Bluelime Learning Solutions via Udemy | 41 mins