Universities have been making their degree programs available online for over 20 years now, but today students can also choose to enrol on new form of online degree that is delivered in the form of MOOCs - Massive Open Online Courses. MOOCs are online courses created by universities, corporations or organisations and are typically delivered via platforms such as EdX, FutureLearn, and Coursera.
In response to a shift in student learning habits and the rising cost of accessing higher education, we are seeing more and more universities offering fully accredited degrees delivered through MOOCs. But how are they different from other online degrees? Read on to find out ...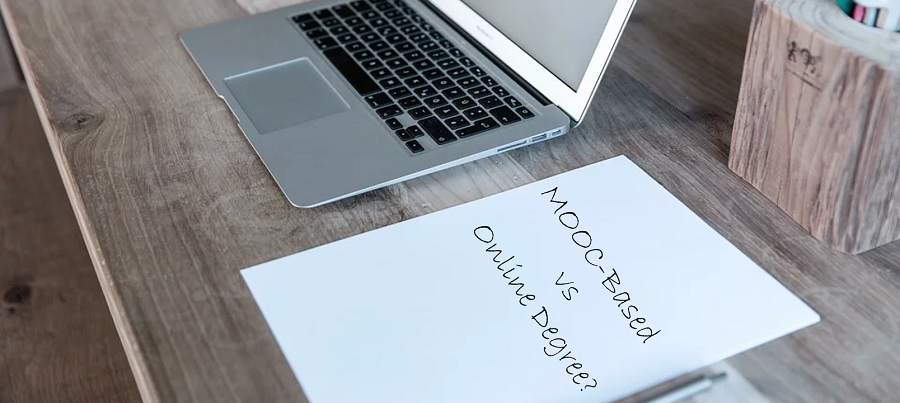 Cost
Typically, tuition fees for MOOC-based degrees are well below most on-campus and online degree programs, making them more accessible for everyone. As an example, the
Master of Computer Science
by Arizona State University on Coursera costs $15,000 or $500 per credit hour. In comparison, tuition & fees for a similar online degree program at ASU for international students is approximately $30,000.
Flexibility
MOOC-based degrees offer a greater flexibility to students in terms of time and cost. Where the traditional online degree program tends to follow the same schedule as the on-campus program, students enrolled in a MOOC-based degree can learn at their own pace and when it suits them, making it easier to fit around other commitments. A semester-long on-campus or online course, for example, can be delivered in three or four individual month-long MOOCs, each targeting specific content areas.
In addition, MOOCs have the advantage of being stackable allowing students to pay as they go, one course at a time until they have completed the required credit hours. Online degrees, on the other hand, follow the same fee structure as the on-campus programs which can be a burden on finances. The stackability of MOOCs also means that students can build up credentials as they go which still count for something even if they do not complete the full degree program.
Application Process
Typically, online degrees have the same admissions requirements as for an on-campus program which can be quite rigorous. MOOC admissions processes, however, tend to be more relaxed and have a considerably higher admission rate than other online degrees. In some cases, no application is required at all. Admission is purely performance-based; students are simply required to complete some of the courses in the program to be considered for admission onto the degree program.
Try before you buy
Another big advantage of MOOC-based degrees is that, in many cases, students can audit some of the degree courses free of charge to get a taster of the content before committing.
See MoocLab's list of MOOC-Based University Degree Programs ►