Founder at MoocLab
Staff member
Group Manager
Written by Carolyn McIntyre, CEO & Founder of MoocLab
I recently had the honour of speaking at the EdTechXEurope summit which was held in London on June 16th, 2016. I was part of a panel of 4 experts invited to talk about "Trends to Watch in 2016", where we all explored trends that are shaping the future of education. Naturally, my focus was MOOCs (Massive Open Online Courses) with a presentation entitled "The Power of MOOCs".

​

The following article is more or less a transcript of my presentation.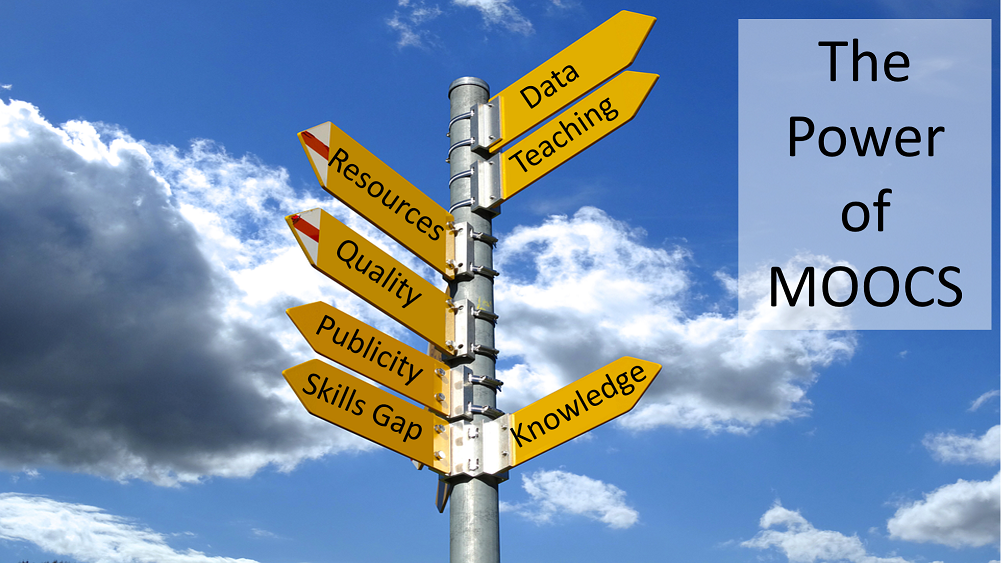 MOOCs are Massive Open Online Courses. They are massive in that millions of people from across the globe enrol in these online courses provided by the top educational institutions and organizations. In fact, the largest recorded number of students to enrol in a single MOOC session was 440,000 for the course Understanding IELTS: Techniques for English Language Tests run by the British Council on UK-based MOOC platform FutureLearn.

So, why do people flock to these courses in such large numbers? Well, primarily because they're free (the course content, that is). In addition, no one will tell you that you're not smart enough or that you don't have the right credentials to enrol. All you need is an internet connection, a device and a desire to learn something new. Another attraction of these courses is that they are available online which means that students can study at their own pace and in their own time, regardless of where they are in the world or what time zone they're in. Learners can dip in and out of a MOOC when it suits them, which is ideal for modern busy lifestyles.

Where did it all start?

Before we look at what these courses have to offer, let's take a look at the MOOC story so far. The acronym "MOOC" was first coined back in 2008 by a group of educators at the University of Manitoba in Canada with a course called Connectivism and Connective Knowledge. The course was offered to a small group of campus-based students, but was also made available online for free. It was the first course designed around the MOOC concept (offering free education to anyone, anywhere), and over 2,000 students enrolled on the online version. With the focus of the course being "Connectivism", the online version used many different online platforms to engage the students, such as Facebook groups, Wiki pages, blogs etc.

It wasn't until 4 years later, though, that MOOCs really kicked off and exploded into the limelight. So much so that The New York Times crowned 2012 as "The Year of the MOOC" which saw the launch of three of the major MOOC platforms - Udacity, Coursera and edX. MOOCs were hyped then as a "disruptive revolution" that would democratize education and change the way we learn.

"The end of university as we know it"

All this hype led some to fear for the future of traditional education, believing that universities wouldn't withstand the rise of this new form of learning, and would gradually disappear. Udacity founder, Sebastien Thrun, even predicted at the time that there would only be 10 institutions of higher learning left in the world – and naturally Udacity would be one of them!

By the end of 2013, however, MOOCs seemed to hit a brick wall as it became clear that the MOOC model had many flaws. They were criticized for their high drop-out rates, poor credentials and for not reaching the undeserved people they were supposed to. In addition, MOOC platforms were struggling to find their business models and Sebastian Thrun even described the MOOC as a "lousy product".

MOOC platforms have changed their focus
So, where are we today? Well, the disruptive revolution that was predicted in 2012 hasn't really come. We still have universities! But we also still have MOOCs. So, what have the MOOC platforms done to keep MOOCs alive? They've changed their focus and moved away somewhat from the original concept of providing free education to those who need it the most. You are more likely to enrol on a MOOC if you come from a developed country and you already have a degree. The typical MOOC student also looks to MOOCs for professional development, so the MOOC platforms have adapted to meet the demands of this particular audience.

If you take a look at Udacity & Coursera, for example, you'll notice that the programs they offer are mainly skills based, focusing on courses in technology and business. We have also seen the introduction of specialization programs which aim to provide a certain level of competence in high-demand skills.

And it is this link to careers that has allowed the MOOC platforms to find their business models with the introduction of fees for certain services, such as certificates, graded assignments or mentoring. While the course content remains free, students are increasingly having to pay for certain "add-ons", many of which were free in the past. This new format has naturally caused some outrage among students, although the introduction of fees has meant that course retention rates have improved, so it isn't all bad from the student's perspective.

MOOCs for credit

One of the biggest changes we have seen more recently is the introduction of MOOC programs with the option to gain transferable university credit. A number of higher education institutions have partnered with the major MOOC platforms to deliver these for-credit programs allowing students to take part of their degree course through MOOCs at a considerably lower cost. On a similar level, leading tech organizations have partnered with Udacity to offer pathways designed to train people for job specific skills with, in some cases, job placement guarantees.

And these changes seem to be paying off. A report by MOOC aggregator, Class Central, showed an increase in the number of MOOCs over the past 4 years with a 50% rise in the number of enrolments in 2015 reaching a staggering 35 million students having enrolled in at least one MOOC. With the MOOC market set to grow at a CAGR of 36% by 2020, it seems clear that these courses are gaining ground.

What do MOOCs add to the education space?

Firstly, they facilitate the distribution and sharing of knowledge and provide a great source for teaching resources. We have seen their potential at addressing skills shortages and they offer excellent marketing opportunities for the provider institutions and organizations. But where I believe we can really gain from MOOCs is the potential they have to improve the quality of education. MOOCs are starting to provide invaluable data on the way people learn best, and this data can be used to adapt and improve teaching methods not only in online courses, but also in the classroom.

We still have quite a way to go, however, before MOOCs become an integrated part of the education system. The average young person today will change careers 5 to 7 times in their lifetime and will have had up to 10 different jobs by the age of 42. These people will continually need to retrain and upskill if they are to keep afloat in a competitive job market. And MOOCs are ideal to address this need. But, although we have seen that they attract millions of students, this still represents a very small proportion of the number of people who could be benefiting. Most people aren't even aware that MOOCs exist. This isn't just the case for consumers, but also for employers. Raising awareness of this type of education at both ends of the job market is key to reaping the full benefits these courses have to offer.

Also, many remain skeptical towards the true value of MOOC credentials, making them unattractive to students looking for marketable qualifications. However, with the recent availability of MOOC university credit and job guarantees, I believe there will soon be a positive shift in attitude towards MOOC credentials.
The future of education promises to be very exciting
Do MOOCs have the power to shape the future of education? Yes, I believe they do, albeit in a less disruptive way than originally predicted. As the quality of learning outcomes improves, MOOC credentials gain traction, and education technology develops, students, employers and providers will take notice. The future of education promises to be very exciting and I believe MOOCs will be part of that journey.

​
Last edited: