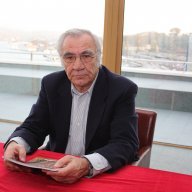 Start a Conversation
Gender:

Male

Birthday:

Feb 10, 1934

(Age: 85)

Home Page:

Location:

Occupation:

dedicated to ONLINE Education
Muvaffak GOZAYDIN
Active Member, Male, 85,
Address:

Turkey

Country:

Location on Map:
Study Buddy Expert
Muvaffak GOZAYDIN was last seen:

Dec 1, 2018
About

Gender:

Male

Birthday:

Feb 10, 1934 (Age: 85)

Home Page:

Location:

Occupation:

dedicated to ONLINE Education

About me:

I have been dedicated to online for the last 21 years .
I claim the best 200 universities should provide online degree programs at the same quality as their on campus degree programs at lower costs to about 20 million students altogether .
We need best brick and mortar universities to provide best online degree programs .
I even claim that in general the cost of online is about 20 % of the f2f courses .
Sure it depends on number of students attending online .

Study Buddy Profile

Main Subject Category:

Business

Study Buddy subject:

Business

Level of Knowledge:

Pretty confident

Preferred language:

English

Preferred study time:

Evening

Goal:

Personal development

Educate and train yourself lifelong

Never stop, world does not stop,

Never go to second class colleges

Never believe college graduates make more money

Yes only good college graduates make more money

If you are not ready for college never go to college

If you have less than 1.000 score of SAT combined never go to college , That means you are not college ready .

Never believe high cost of online courses and degrees

The cost of an online course per persopn per course işs less than $ 10 . But University of Pennsylvania charges $ 2.000 , PennState charges $ 1.500 . Never believe . And complain to your representative .

Free economy does not mean to cheat less educated people

Interact

Loading...

Loading...