Both the
MicroMasters
(EdX) and the
MasterTrack
(Coursera) are "micro-credentials" made up of a series of online graduate level courses equivalent to a semester of a full master's degree. They provide in-depth learning in a specific career field and allow learners to earn credit towards a Master's Degree.
The following guide aims to help learners distinguish between the two.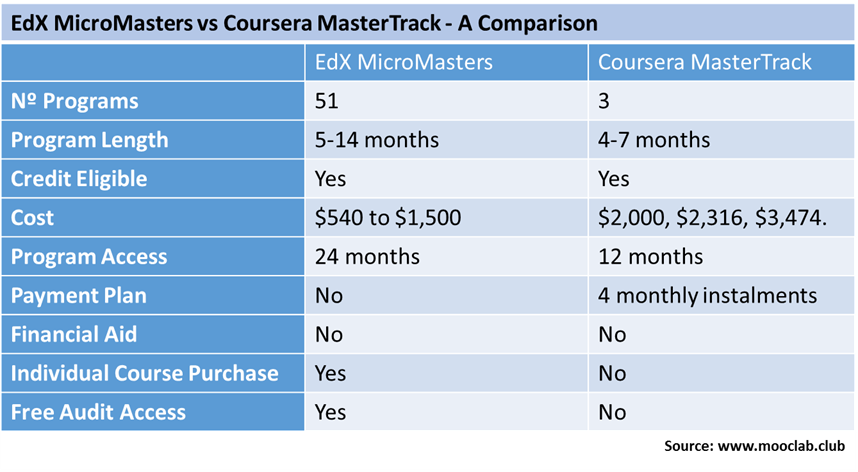 EdX have been running their MicroMasters Programs since September 2016 and currently offer 51 programs in partnership with 23 universities, whereas Coursera started piloting their first 3 MasterTrack programs in March 2018 in partnership with 2 universities.
Successful graduates of both the MicroMasters and MasterTrack are eligible to apply to pursue a full Master's degree with credit earned from the program counting towards the degree. Typically, only the institution that offers the program grants credit, and the number of credits that will count toward the Master's degree varies across programs.
There are however some differences between the two programs that learners should consider before deciding which one to enrol on:
Firstly, EdX offers a much larger choice of programs in different subject fields, although if Coursera's pilot is successful, we can expect their MasterTrack catalogue to grow.
EdX MicroMasters usually require a heavier time commitment (up to 14 months) compared to the shorter MasterTracks (up to 7 months). This difference presents pros and cons in both cases: Coursera's MasterTrack may be more suitable for those who have limited time, but may not provide the same depth of learning as EdX's MicroMasters programs.
Although usually longer, the EdX MicroMasters are more affordable than the Coursera MasterTack, with the MicroMasters programs starting at $540 compared to $2,000 for the cheapest MasterTrack.
Students who purchase a MicroMasters program on EdX can have access to all the courses over a 2 year period compared to one year for those who enrol on a Coursera MasterTrack.
The final major difference is that students have the possibility to enrol on individual courses within the MicroMasters programs either via the free audit option or to earn a paid verified certificate for an individual course. This is not the case with the MasterTrack where learners cannot take individual courses as part of a MasterTrack. However, students enrolled on the Coursera MasterTrack do have the option to pay in 4 monthly instalments.
See also:
MOOC programs offering college credits