Founder at MoocLab
Staff member
This year's
IEEE Learning With MOOCS Conference
was held in October 2019 at the Milwaukee School of Engineering, and welcomed some prestigious Keynote speakers from academia and industry to discuss learning analytics, key stakeholders, micro-credentials, machine learning and more.
Here are some of the topics that caught my interest:
Speaking about ways to evaluate the quality of MOOCs, Kerrie Douglas, Assistant Professor at Purdue University said that leveraging MOOCs to make education more accessible is not enough. MOOCs need to be useful to the learner if they are to be deemed "good" and simply having a prestigious university name behind a MOOC doesn't necessarily make it a good MOOC, especially considering that universities hire faculty based on their research - not their pedagogical skills.
However, evaluating the quality of MOOCs isn't an easy task given the number of different stakeholders involved - faculty, learners, platforms, institutions and pedagogy to name a few. Having analysed learner feedback from 800 courses on the FutreLearn platform, Dr. Douglas noted that the overall most important factors for learners are the course content along with peer and mentor interaction. The difficulty level and accuracy of a course description was also highlighted as an area needing improvement.
Not only are there numerous stakeholders involved in a MOOC experience, so too are there numerous types of learners. In his keynote, Anant Agarwal, CEO at edX identified 5 learner types all of whom have different expectations from MOOCs: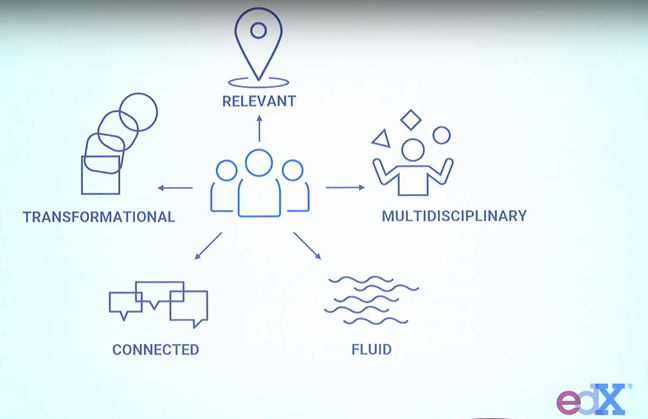 The "Relevant" Learner - looking to learn something very specific
The "Transformational" Learner - looking to transform their career
The "Multidisciplinary" Learner - looking to gain complementary skills
The "Fluid" Learner - looking to fit lifelong learning around their lifestyle
The "Connected" Learner - connected to an institution, but looking to learn something from the outside
Similarly, in her analysis of MOOC quality, Kerry Douglas concluded that "To evaluate MOOCs, findings must be contextualized based on learner type."
Holly Shiflett, Director of North American Partnerships at FutureLearn, focused her keynote on the role of micro-credentials in skill development. With the rising cost of traditional degrees and their lack of flexibility, she noted how the higher ed landscape is changing with employees looking increasingly to find alternative, more affordable ways to upskill. Referencing a recent
Global Learner Survey
by Pearson which revealed a growing interest in shorter programmes and lifelong learning, Shiflett emphasised the importance of micro-credentials in tackling skill shortages. These micro-credentials, delivered by universities as well as corporates, allow for "stackable" learning and can count towards a degree making them attractive to today's learner. And they ARE making a difference - a learning outcome analysis conducted on edX revealed that over 90% of graduates from the Professional Certificate and MicroMasters programs on edX reported positive career outcomes.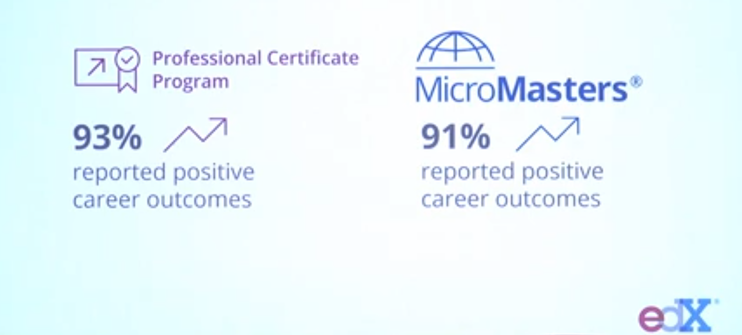 For more information about edX micro-credentials, see
EdX MicroMasters, XSeries & Professional Certificate Programs
---
About Dr. Kerrie A. Douglas
Dr. Kerrie A. Douglas is an Assistant Professor of Engineering Education at Purdue University. Her research group, Science and Ethics of Educational Data (SEED) seeks to advance holistic and ethical approaches to validation and inference of student learning, particularly for diverse minority learners. This research focus includes methods to determine criteria for evaluation of MOOCs. She studies how to combine multiple sources and types of data to provide a deeper assessment of learners and understanding of groups of learners. In 2018, she won the IEEE Frontiers in Education New Faculty Fellow Award.
See Dr. Douglas' keynote:
Part 1
,
Part 2
About Anant Agarwal
Anant Agarwal is the CEO of edX, an online learning destination founded by Harvard and MIT. Anant taught the first edX course on circuits and electronics from MIT, which drew 155,000 students from 162 countries. He has served as the director of CSAIL, MIT's Computer Science and Artificial Intelligence Laboratory, and is a professor of electrical engineering and computer science at MIT. He is a successful serial entrepreneur, having co-founded several companies including Tilera Corporation, which created the Tile multicore processor, and Virtual Machine Works.
Anant won the Maurice Wilkes prize for computer architecture, and MIT's Smullin and Jamieson prizes for teaching. He is also the 2016 recipient of the Harold W. McGraw, Jr. Prize for Higher Education, which recognized his work in advancing the MOOC movement. Additionally, he is a recipient of the Padma Shri award from the President of India. He holds a Guinness World Record for the largest microphone array, and is an author of the textbook "Foundations of Analog and Digital Electronic Circuits."
Scientific American selected his work on organic computing as one of 10 World- Changing Ideas in 2011, and he was named in Forbes' list of top 15 education innovators in 2012. Anant, a pioneer in computer architecture, is a member of the National Academy of Engineering, a fellow of the American Academy of Arts and Sciences, and a fellow of the ACM. He hacks on WebSim, an online circuits laboratory, in his spare time. Anant holds a Ph.D. from Stanford and a bachelor's from IIT Madras.
See Anant Agarwal's keynote
here
About Holly Shiflett
Holly Shiflett joined FutureLearn in April 2019 bringing with her an extensive background in international online education strategy and implementation across a variety of higher education sectors. Her role at FutureLearn provides strategy and support for existing partnerships in North America. Additionally, a key goal is identifying new opportunities to support global development for North American institutions and build FutureLearn's presence in the region.
Prior to joining FutureLearn, Holly worked at Wiley Education Services, a provider of Online Program Management Services leading online education partnerships in the UK and Europe including the University of Birmingham, the University of Bath, the University of Glasgow in the UK and Vlerick Business School in Belgium. Similarly, at the University of Pittsburgh (Pitt), Holly initiated the institution's first fully online programs and implemented university wide support services for students. The Middle State Commission on Higher Education awarded Pitt with a series of 2 commendations for this collaborative work. Holly started her eLearning career at eCollege, one of the first Learning Management Systems, where she held a variety of leadership roles.
Holly has a PhD in Higher Education Management from the University of Pittsburgh, an MA in Integrated Marketing Communication from the University of Colorado at Boulder and a BA in Communication Arts from Salisbury University in Maryland. Holly lives in San Diego, California, USA.
See Holly Shiflett's keynote:
Part 1
,
Part 2