Official Account
Group Manager
Domestika
is one of the largest growing creative communities within the creative industry. It all started as a small but dynamic showcase of creative professionals, to help them connect and learn from each other. Years later, born from this core value, Domestika widened its reach by designing and producing online courses for all those people who want to learn and improve professionally with the best teachers. From this grew a community of more than 1,5-million-people who are constantly curious and passionate about learning new skills.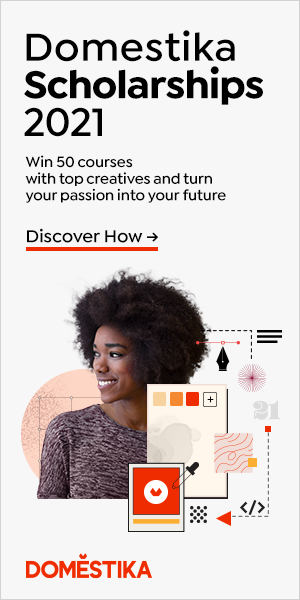 The world of creativity is based on sharing knowledge, and this concept inspired Domestika to kick start the third edition of
Domestika Scholarships
.
Domestika Scholarships aim to promote creative learning. As a result, Domestika will be handing out 10 scholarships to 10 lucky winners, consisting of a 50-course bundle of their choice. Anybody over the age of 16, from anywhere in the world, whatever their level of education or professional direction, can take part.
What are Domestika Scholarships all about?
Domestika Scholarships aim to encourage the learning of the creative disciplines. Among all the participants, 10 will be granted a Domestika Scholarship of 50 courses each.
How to apply
Students must have a verified account at
Domestika
, fill in the profile with some basic info and upload at least 3 creative projects on their profile.
Who selects the winners?
A jury of 15 renowned professionals of the creative industry will choose the winners. They are Domestika Teachers from different parts of the world, such as
Ji Lee
(Creative Director at Facebook & Instagram),
Sagi Haviv
(Partner and designer at Chermayeff & Geismar & Haviv),
Mattias Adolfsson
(AOI World Illustrators Award),
James Lewis
(Lettering artist who collaborated with brands like Amazon, Montblanc, Rolls-Royce, Samsung) and many more.
You have until
April 12th, 2021
, to submit your portfolio for the Third Edition of Domestika Scholarships.
Click here to participate >>