Founder at MoocLab
Staff member
Group Manager
A recent report by the University of Washington's Technology & Social Change Group (known as TASCHA) with support from IREX, a nonprofit development organization, has revealed some interesting insights into CourseTalk users and reviews. CourseTalk is the world's largest source for reviews of online courses and MOOCs, offering access to more than 100,000 reviews of 40,000 courses from 65 MOOC providers.
This analysis was conducted as part of the
Advancing MOOCs for Development Initiative
, a USAID/CourseTalk funded program which aims to harness the power of Massive Open Online Courses (MOOCs) to help young adults across the developing world grow successful careers, potentially leading to stronger economies.
The report offers an insight into the demographic composition of CourseTalk's registered users , an analysis of course reviews written by CourseTalk users, and users' behaviour when browsing on the CourseTalk website.
Let's look at some of the key findings and insights from the report:
Demographics of MOOC users
The report confirmed some widely-reported MOOC trends:
The vast majority of MOOC users are men who represent 69.3% of CourseTalk registered users compared to 30.7% female users.
Most MOOC users come from the U.S. (34.1% of registered CourseTalk users), followed by India (11.8%).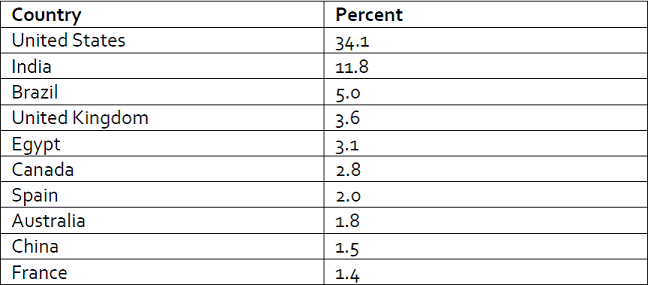 ​
Professionals represent the largest CourseTalk user category claiming 45.6% of the registered user base, followed by College Students with 28.3%. Together, these two categories represent 87% of CourseTalk registered users. The third largest category is Professor/Instructor at 6.4%, confirming an increasing demand trend for pedagogical courses.

User Reviews
Out of the 79,196 course reviews in English at the time of the study, the vast majority of these reviews (92.1%) were submitted by anonymous (non-registered) users.
Reviews by registered users are voted helpful at 39X the rate of those by unregistered users.
The average number of reviews written by registered users was 1.7, with a minimum of 1 review and a maximum of 93.
The types of courses most reviewed by registered users are quite diverse, although courses in Computer Science are common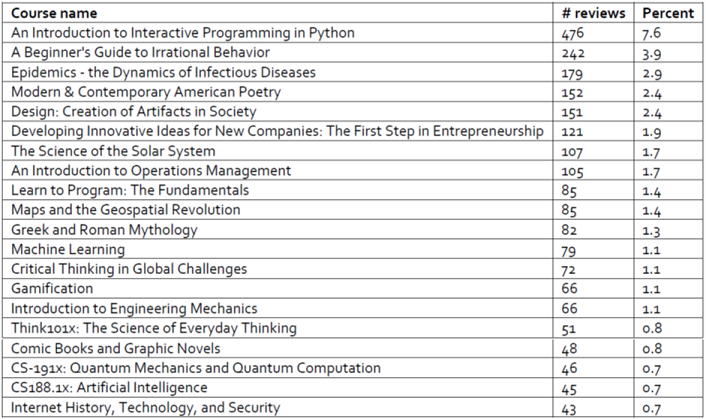 User Sentiment & Preferences
Based on an analysis of CourseTalk Search Terms, the most popular courses are in Computer Science.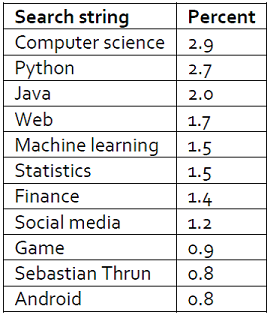 An analysis of the review narratives revealed general user sentiment surrounding MOOCs and online learning, user motivation and experience as well as the benefits from the reviews:
Positive sentiment & experiences
CourseTalk reviews provide a useful resource for course feedback and recommendations
The reviews reveal some positive experiences of first-time users of MOOCs leading to further MOOC enrolments, the acquisition of new knowledge or a review of knowledge, introductions of friends to MOOCs, a gateway to return to learning.
The online community created through the course forums can play a positive role in the overall MOOC experience
For some, MOOCs have played a critical role in their jobs and advancing their career goals
Negative sentiment & experiences
The CourseTalk review system doesn't allow for more user engagement, such as the ability to discuss other users' reviews

Language can be a barrier to engagement in a course
The overall learning experience of first-time MOOC users doesn't always meet expectations
MOOCs don't provide "real teaching"
In some courses, the lack of student engagement in the discussion forums can lead to an overall negative learning experience
What can we take away?

Anonymity rules
CourseTalk reviews are primarily submitted by non-registered anonymous users. This is interesting as you might assume that the users who choose to register would most likely be more engaged and committed than those who don't register. Is anonymity therefore a factor in people's decision to write course reviews?
However, the reviews written by registered users are the ones considered to be most "helpful" by others - having a real person's name beside a review clearly gives it a lot more value. Getting more users first to register and then to get those registered users to become more engaged will no doubt be on CourseTalk's to-do-list this year.
Developing countries: the "forgotten" crowd
Developing countries are strikingly underrepresented among CourseTalk's user base. This underlines previous study results that MOOCs actually cater mostly for educated professionals from developed economies, rather than for those who would benefit the most from this type of online education. The
Advancing MOOCs for Development Initiative
is a first step towards helping young adults across the developing world gain better access to MOOCs, but with current MOOC platform business models moving towards increasing monetization and catering more for educated professionals, there is a chance that wishful students from developing countries will simply be "forgotten". Developing nations would benefit more from funding and guidance to set up and deliver their own MOOCs and online courses tailored specifically for their aspiring learners.
Male dominance
Only 30.7% of CourseTalk's registered users are women, which is in line with other demographic studies around MOOCs. It is interesting that men remain the main users of MOOCs when we consider the potential benefits to women that this type of learning offers. We have seen that MOOCs can provide a pathway to gaining new skills, reviewing previously acquired skills and building confidence which seems all the more relevant to women who choose to take some "time out" for child care. MOOCs offer a perfect opportunity to keep on top of skills and get back into the job scene without the inconvenience nor the cost of enrolling on a campus-based course.
The MOOC gender gap has often been noted in studies and reports, but there seems to be a distinct lack of research into the reasons behind this trend. Women are just as interested in learning as men and they are certainly more than capable of studying at a higher level. On traditional campus-based courses in fact, women actually outnumber men.
Why then is it that more women don't use MOOCs?
Given the absence of research into this field, I can only make some suggestions which are purely suppositions. Although I may be putting my neck on the line by saying this, men are known for being generally more "tech" minded, so one possibility is a reluctance in women to learn using technology as a medium. Also, men tend to be more ambitious than women (I don't mean to offend any ambitious women reading this!) which means they are more likely than women to be looking to advancing their careers and using MOOCs to gain the necessary new skills to do so. We mustn't forget also that in many cultures and communities, women are not encouraged to learn nor to do skilled jobs which would explain why, in this instance, women would not be enrolling in MOOCs.
Are MOOCs the answer to the skills gap?
Courses in Computer Science and Programming skills are the most sought-after courses according to this report. This skills field is also plagued by the biggest skills gap on a global scale where more and more jobs are not being filled due to a shortage in the necessary skills. Given the demand in training in Computer Science and related fields in the online environment, MOOCs and other online courses have the potential to narrow down the skills gap, particularly with the increasing number of specialization tracks now offered by the big MOOC platforms. The big barrier to achieving this is of course the current reluctance by employers to recognize this type of credential.

Room for improvement
Feedback obtained from CourseTalk's user reviews shows that studying with MOOCs can offer a very positive learning experience, but there is clearly still plenty of room for improvement. Community engagement is key to keeping students motivated in an online environment and often user sentiment suggests that MOOCs don't always deliver here leading to frustration and drop-outs. Language and culture are also a key factors, especially when delivering courses at scale. Work needs to be done to cater for the diverse audiences that MOOCs attract. The sentiment that MOOCs don't provide "real teaching" also needs to be addressed if the learning outcome is to improve. MOOCs remain in most instances a one-way interaction with the instructor teaching and the students listening.
With the MOOC market set to grow along with the increasing availability of data connected to online learning and the advancements in technology, we can only assume that this type of offering will evolve and develop into a more rounded and productive form of education. And I look forward to it!
This article was written by Carolyn McIntyre, CEO at MoocLab.club
Download the full report here
Have your say! Post your comments in the reply box below.
Last edited: