Coursera is a popular online education platform that partners with more than 200 leading universities and companies to bring flexible, affordable, job-relevant online learning to individuals worldwide. The courses are taught by top instructors from prestigious universities such as Princeton, Yale, Columbia, Johns Hopkins, the University of Michigan, or UPenn, as well as renowned companies like Google Cloud, Goldman Sachs, or AWS, for example. The majority of courses can be accessed for free, but if you wish to do assignments and get a certificate to share with prospective schools or employers, you will need to pay a fee. The cost to enrol in a certificate track for a single course ranges from US$30 to $100 approximately.
Coursera also offers more in-depth course series such as their
Specializations
or
Professional Certificate Programs
, many of which offer subscriptions. Rather than paying a one-time fee, you can pay a fee every month for the Specialization until you complete all courses in that Specialization. The cost of a Specialization subscription can range from approximately US$49 to $79 per month, and most offer a 7-day trial period.
Alternatively, you can subscribe to
Coursera Plus
, either on a monthly subscription plan at US$59/month (
Coursera Plus Monthly
), or you can opt to pay a one-off fee of US$399 for the year (
Coursera Plus Annual
). Both these subscription models give you unlimited access to over 90% of the learning programs in the Coursera catalog. While subscribed to Coursera Plus, you can take as many courses as you'd like without paying an additional fee as long as the course is included in Coursera Plus. There is no limit to courses you can enroll in or Course Certificates you can earn.

What's included?
Coursera Plus includes unlimited access to 3,000+ courses, Guided Projects, Specializations, and Professional Certificates. To find out what's included, look for learning programs marked with the Coursera Plus badge, or
check here
to see the full list of what's included in Coursera Plus.
For-credit content, like Degree and MasterTrack courses, and some Professional Certificates are not included in Coursera Plus.
Will a subscription to Coursera Plus save me money?
Firstly, if you goal is
not
to earn a certificate as proof of learning, you can choose the audit option which is available on the majority of single courses on Coursera. This will give you free access to all the course materials excluding graded assignments and a certificate of completion.
If you decide to pay for full access and gain a certificate for just one or two courses in a year, you'd be better off just paying the single course fee. (Note - this is not possible if the course is part of a Specialization or Professional Certificate Program. In this case you would need to subscribe to the full program, and then cancel your subscription when you have completed the course.
If you intend to pay for multiple courses,
Coursera Plus
may be the cheaper option. The annual Coursera Plus subscription is $399 for the year, which amounts to
$33.25 a month
. By comparison, a Specialization subscription ranges from
$49-$79 a month
and takes approximately three months to complete based on Coursera's recommendation. So, for example, a 3 month Specialization at $49 a month would cost a total of
$147
with a Speciaization subscription. With Coursera Plus, the same Specialization would amount to
$99.75
($47.25 less than the Specialization subscription).
If you know you can complete a Specialization in three months and you don't intend on taking any other courses, you'd be better off just subscribing to the Specialization. However, if the course series is likely to take you longer than 3 months to complete, or the recommended time to complete it is longer (this can be up to a year for some Specializations), then the obvious choice would be a
Coursera Plus subscription
as this would save you money. This choice would also be the cheaper option if you intend to enroll in multiple courses throughout the year. If the total cost of the courses you plan to take within a 12 month period is more than $399, then
Coursera Plus
is the better option for you. Alternatively, if your budget doesn't stretch to cover the annual fee, then
Coursera Plus Monthly
is worth considering. The differences between a Specialization, Coursera Plus Monthly, and Coursera Plus Annual are outlined below.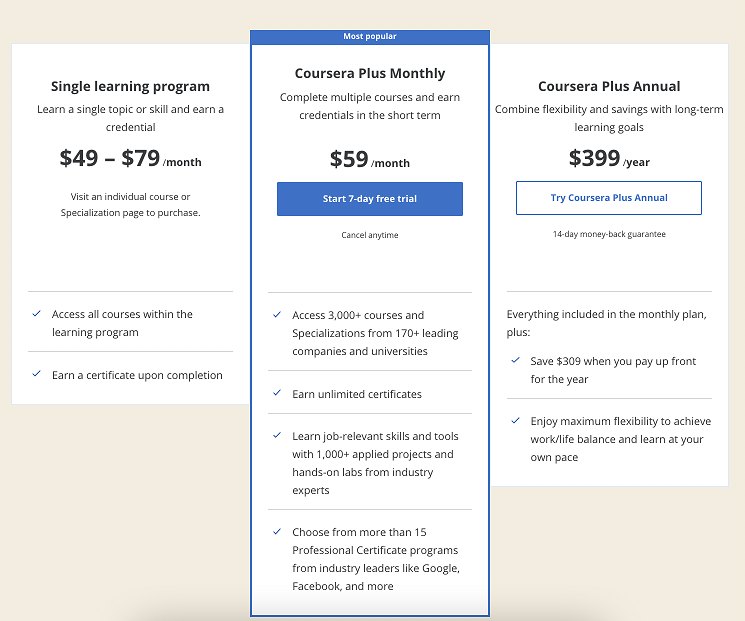 Note: You will be eligible to receive a refund of your Coursera Plus payment if you request it within 14 days of your purchase.
To find out more about Coursera Plus Monthly, visit the Coursera website
here >>
or for Coursera Plus Annual
here >>
Last edited by a moderator: