Founder at MoocLab
Staff member
Group Manager
Not-for-profit MOOC platform edX announced yesterday the launch of a new online
Master's Degree in Electrical and Computer Engineering
from Purdue University School of Electrical and Computer Engineering. The program will enable learners to gain deep knowledge in electrical and computer engineering, with the option to choose a particular area of interest.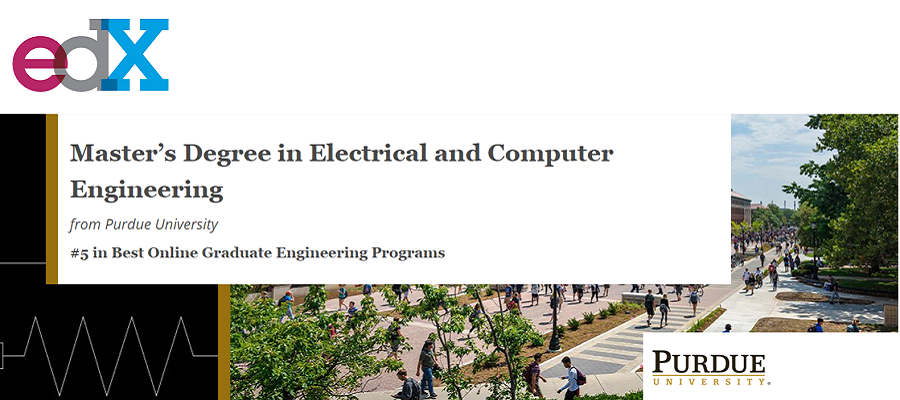 Students can choose from the following 7 broad tracks:
Automatic Control
Communications, Networking, Signal & Image Processing
Computer Engineering
Fields and Optics
Microelectronics & Nanotechnology
Power and Energy Systems
VLSI and Circuit Design
The program is ranked the #5 online graduate Engineering program according to U.S. News & World Report, and will be available for $22,500 USD.
Find out more about the Master's of Electrical and Computer Engineering
here ►
.
This new Master's degree is the latest addition to the top-ranked online
Master's degree programs
available on edX, bringing the total number to eleven. Other fully online Master's programs include
IT Management
,
Supply Chain Management
,
Accounting
,
Leadership: Service Innovation
,
Computer Science
,
Marketing
,
Business Administration
,
Cyber Security
,
Analytics
and
Data Science
.
About Master's Degrees on edX
Master's degrees on edX are stacked degree programs with a MicroMasters® program component which can help strengthen a Master's degree application and offer a pathway to credit. MicroMasters programs are designed to advance learners' careers and can count towards online Master's degree program credit for learners who apply and are accepted into the associated Master's program.
Students enrolled on an edX online Master's degree earn a full Master's degree—typically the same exact diploma that students earn on-campus. Some Master's degree programs are designed to be completed in one year as an accelerated program, while others may take two or three years to complete. Program length depends on how many courses are taken at a time and whether the learner is working full-time or part-time.
Explore all edX Degree Programs
here ►