Few days ago, I posed in my last article that one of the key driver, consolidate and provide spectacular advance excellence MOOC universe passes, among many others, by the level of demand for the real protagonists of the educational ecosystem:
the students
. About them gravitates around this huge gear and is the final and actual recipient of numerous proposals that now exist in the network.
In this sense, I think the word that best describes how you can take this momentum (we have passed the stage of germination, the boom, a plausible consolidation .... and now the journey must be to the rooting and solidification, qualitative growth, and excellence) it is
innovation and quality
: they can not keep the platforms that do not provide innovative vision, high quality content and dedication to prominence alongside traditional education agents, engaging all in unison gestation of the new paradigm, linked to new technologies and future expectations they generate. And an implication committed by students: the firm desire to participate for qualitative improvement in their background knowledge, the vocation to build an enhanced profile of skills, capabilities and expertise, the desire to grow deeper into areas of knowledge according to their personal and professional expectations ... without sacrificing the pleasure to discover and learn something new or little-known passion for the intrinsic pleasure of knowing more, by way of reading pleasure or enjoyment of the music that so many experience from early age.
What attitude or role should play all the parts in this new venture?
1.The MOOC platforms: the drive motor
The content provider should be the driving force in response to the user's needs (students) want to cover) or problems that need solving. This I point towards a dynamic and innovative thinking and constant analysis, critical and transformative. And more in modern times: listen to the user, establish conversation with them, know them and discover all this quantum to innovate and constantly improve their offer. Why should draw clearly: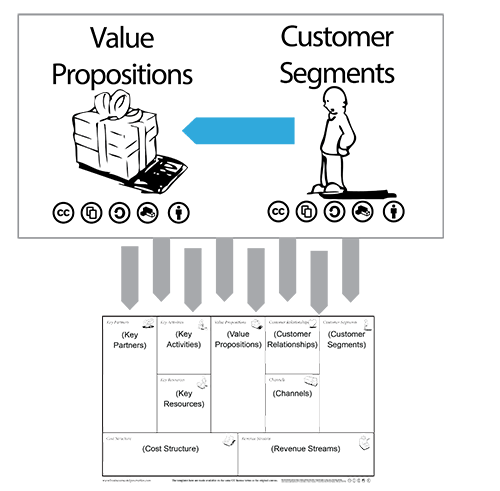 His target: to whom they address, that demand segment population that will arrive, meet your expectations and availability for resources and motivations
Your offer: knowing your audience, define what type of content offered and on what level, what path length the course (or courses) come to meet user expectations student (an itinerary, a specialization, a customizable portfolio by student himself? A flat route, a tour of levels?
Channel: starting from the premise that the supply is channeled through the media on line: a distribution as before, or combined with tutoring face? Or promoting team activity, both in its on-line and off-line? Workshop holding events to encourage the practical application of learning, creating community awareness of inserting prestige of belonging to the brand MOOC Provider / University among its users? Acting shuttles and recognizing the value reached by your students?
Alliances: who create cooperative relationships necessary? What type? Involve public administrations and governmental entities? Generating a mix of Administration / University Private / Academies / Financial / Professional Institutions Schools ...? How all this synergistic dynamic spiral of much value to generate an offer qualitatively as prestigious or month that the current characteristic of the official centers?
I do not want to bore you with a dissection of the Canvas, but I am assailed this reflection in the light of situations even today, after lso years that have passed since the emergence of the phenomenon MOOC still they exist: recently attended a conversation (brief because Secrecy is the currency in the place where there was ... I will not give names, only clues ... a company with a strong action on the social fabric whose reason is, selfless service to the community ....) that MOOC raised platform and create a reference whose script is great porpuesta "give courses in everything from offices to winemaking, with videos showing what happens in local commerce, conclude agreements with all the universaidades prestigious national and international, and .... the key is to know what software platform we will, yes, installed on our server and free open source because it can not be otherwise ... ": what lack of vision, mission and ... I leave it at that. Someone of the leaders of this huge project has wondered "who -addressees -" what "they demand, what they need, looking, the 'how' and only arise if will be global, or only national, or maybe Local !. ..and above all: that value proposition our idea to offer users (who will opt for our offer and keep the left in the ink compared with existing hundreds (and necessary coloaboradores (which may encourage the MIT Massachusetts eg. to collaborate with our proposal when it is an established, prestigious and renowned brand?
And the mission and vision are essentially in any proposal MOOC: without them, is to pretend mow flies with cannon! Notice how there are platforms that, in my opinion, are of value, based on a proposal that is to offer general courses in many areas, an initiatory level ... and work very well, because clearly defined mission; that is, to bring culture, in their different fields, a beginner level, and encourage the slow approach, but continued quiet ... programming apps, the agile management or psychology. His vision is clear: to create community interested in culture, acquiring new skills, and gradually and solidly grow. Excellent. But they pose no place courses and courses and courses without rhyme or reason! And on his trip short, medium and long term especially as they have in mind to incorporate more elements of added value: biometrics of authorial control augmented reality, gamification ... to go staying on the crest of the wave training.

2- The student: forced himself on demand is the catalyst of the need for innovation.
The student needs to access the universe MOOC clear idea and commitment to self: do I want to learn, why, for what purpose, I invest in myself all the way! And with this attitude, the need arises spontaneously.
The student must be clear about the route and the depth of it, he wants to go, its objectives (professional improvement, personal reinvention, mastery of the latest techniques, technologies or methodology splashed in their current workplace, or ... learn and discover more of what you're passionate about!).
And it has a kind: You can set this profile thick line through the multitude of supply that exists today on the web: investigates, searches, share and talk with others (friends who have been students, nalizes invitations that come to you from a program affiliate by a third participant in the course of reference, read blogs, participate in
MOOCLab
, grab MOOCs seekers ... read reviews, and ... test, test ... and draws conclusions.
As your participation is greater and active mass (part of the community, actively) have clearer what matters, what you need where you are and you miss the most .... and spreading your amazement or misunderstandings The feedback will provide feedback to suppliers to where the user wants to go!

3- Global Comitment
: and this is not a flash in the pan or adventure 4 €: it requires time, effort, investment, and capital !! Government, the legislature, the academic community, the facilitators of the employment arena, companies that (all) require talent ....'s responsibility, need and opportunity for all and for all. Innovation must occur at all levels and members of society, permeating a new vision, and active comproimetida about training, equal opportunities, dissemination and recognition sanctioning this great big bang at hand!
It is time of opportunity and talent seed can be planted in the most prolific field that history has ever offered: the new technologies, globalization has wrought the net, disparate channels and means to communicate and convey the message are a perfect stage today as ever. We must seize all this unlimited capital and create new golden age from the qualitative and innovative training: thank society. And the world will be better!
And suddenly .... read
MOOC Lab
and get unlimited resources and inspirations to become a MOOCer (profile you are, supplier, student entrepreneur with an eye to the world of education ...) fine fur and senior!