Founder at MoocLab
Staff member
Group Manager
With the recent explosion of online learning opportunities, it's becoming increasingly difficult to know where to look for the best offerings that are available to you on the world wide web. Just entering the words
Online Course Provider
into Google generates close to 4 million results!
Providers don't only vary in the subjects they offer or the quality and cost of their courses, but also in the type of course they deliver. Some online courses run over several months, others last under an hour. Some may include interactive activities such as quizzes or games while others may offer a more passive learning experience. Some may offer accredited certification, others may not provide any form of proof of learning.
So, where do you start? MoocLab specialises in connecting people to quality online education with a focus on free and low-cost courses. Our ever growing
Directory of Online Course Providers
allows you to browse providers based on the type of course they offer.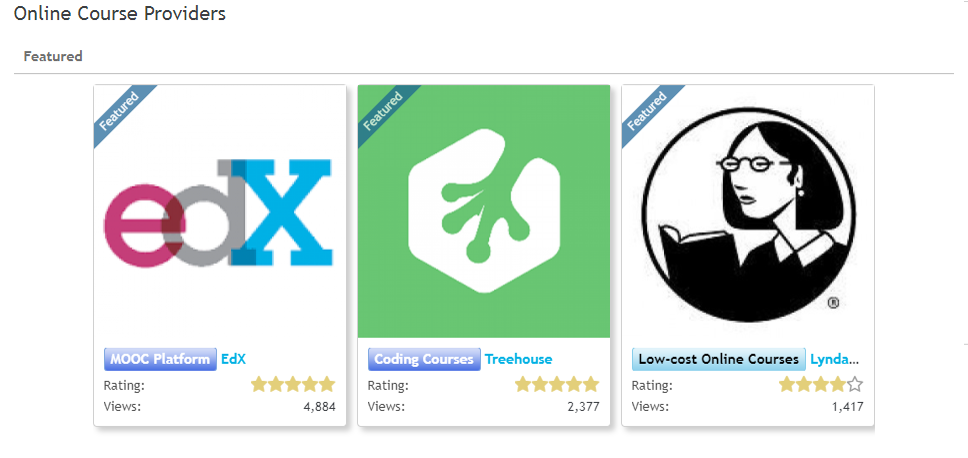 ​
The directory is organised into several categories to help you narrow down your search:
MOOC Platforms
A MOOC is an educational course which is delivered online and is open to anyone wishing to enrol. MOOCs are often delivered by renowned professors from famous universities and typically feature a blend of video content, quizzes, discussion boards, downloadable readings, and peer-to-peer assessment of learning. The goal of MOOCs is to reach a much larger audience than traditional courses can accommodate. Typically, MOOCs are free although MOOC platforms are increasingly using a paid track to generate income. In these cases, there is usually an "Audit" option allowing users to gain free access to the course content although this doesn't usually include graded assignments or course certificates. In some cases, MOOCs may grant transferable college credit or lead to an accredited degree.
---
Free Online Course Providers
Many online courses now resemble MOOCs, but typically they are shorter in length requiring just a few hours of study time or less. They tend to be purely vocational and created either by the e-learning platform itself or by professionals in their field. A number of these providers offer free courses either exclusively or in combination with other paid courses while ensuring high quality content and learning. Certificates are often delivered on successful completion of a course and may, in some cases, incur a small fee. Generally, standard online courses don't provide the same opportunities for peer-to-peer interaction found in MOOCs.
---
Low-cost Online Course Providers
Online courses generally cost significantly less than their traditional classroom-based equivalents, as the cost of running the course once it's made is minimal in comparison. MoocLab's directory lists a number of high quality providers of both professional and academic online course providers.
---
Open Courseware platforms
Open Courseware (OCW) is a term used for core teaching materials used in graduate and undergraduate university classes made openly available online at no cost. Open Courseware may include text-based documents, audio and video files, lecture notes, podcasts etc
---
Crowdsourced education platforms
Crowdsourced course providers contain educational content obtained from any individual or organisation wishing to publish their own content on the online course platform. The providers are often low-cost, but can vary in course quality. Often, however, there is a course rating system where learners can rate and review the courses they have studied so that others can then make informed choices.
---
Online Coding Course Providers
Online study lends itself perfectly to learning computer programming, and there are many different platforms offering online coding tuition to suit everybody, including online courses, bootcamps or tutorials, some of which are free.
---
Online Degree Providers
Some of the most prestigious universities are now offering fully online degree programs, making higher education more accessible and affordable. Nowadays, accredited online degrees offer the same quality, instruction and employment opportunities as equivalent campus degrees. It is important to note, too, that often universities don't include an online status on the diploma, making it exactly the same diploma that a campus student would receive. Rather than attending classes in person, online students access content via videos, presentations, live lectures, chat rooms and video conferencing. These tools allow students to interact with peers and have live sessions with their instructors.