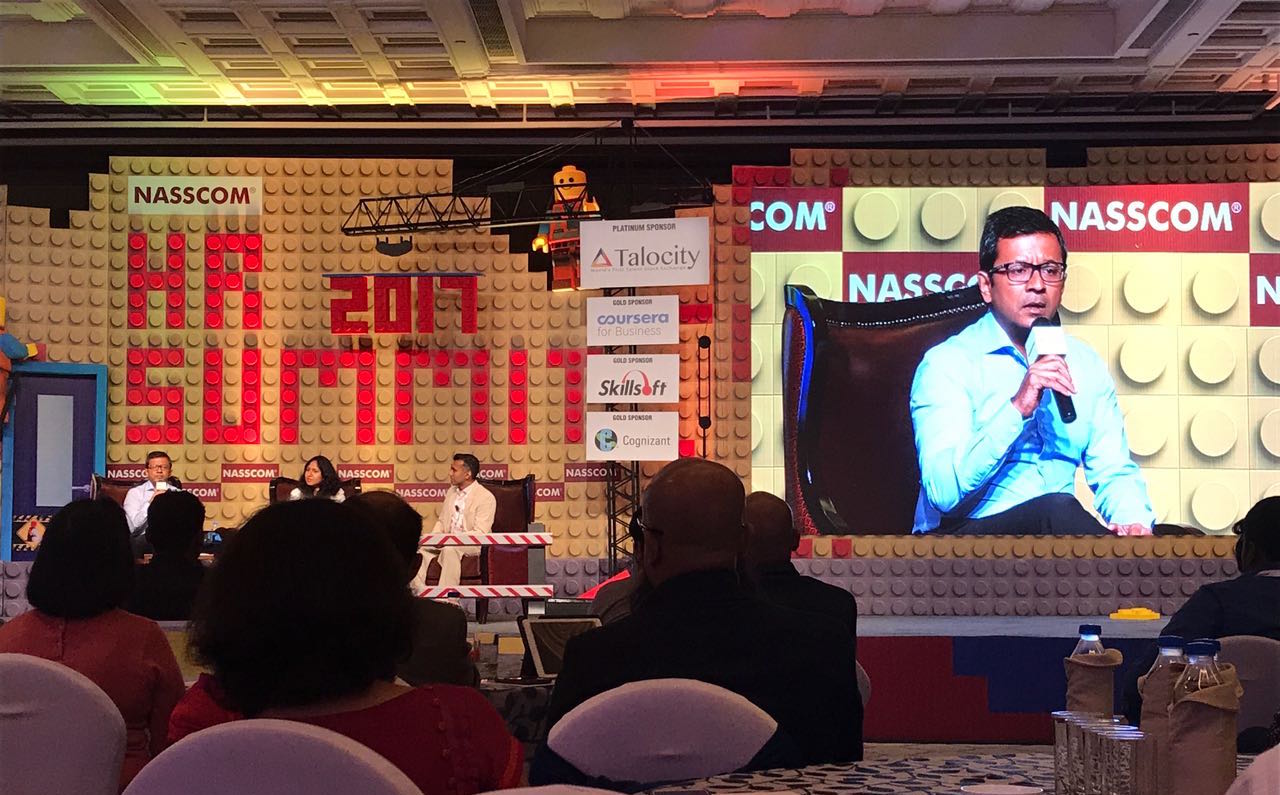 With a fast-changing business environment and technological advancements, the world of business is changing rapidly. India, too, is witnessing a big shift across sectors. With companies assertively transforming to keep pace with the changing environment–and automation leading to job displacement becoming a recurring coffee table conversation– 'learning' has emerged as an effective tool to address the skills gap crisis. Becoming a learning organization is the way forward!
While the jury is still out on how many organizations can be deemed as learning organizations today, Raghav Gupta, India Country Director at Coursera was invited to be on the panel discussing 'Building a Learning Organization' at NASSCOM HR Summit 2017, Chennai. Raghav was joined by co-panelists – Shraddhanjali Rao, Head of HR, SAP India and Hariraj VijayKumar, Co-Founder, Designs In Change. The event was attended by over 600 HR professionals from across industries.
The panel shared its perspectives on the topic and answered questions from the audience such as:
Are there learning organizations today?
What they do differently from the vast majority of other organizations?
Can a regular organization become a learning organization?
Are there resources that they can access to bootstrap the process?
What are the key barriers to creating a learning organization?
Some key takeaways from the discussion are summarized below. Business and HR leaders driving towards building learning organizations can use the following checklist of questions to test their progress and course correct as needed:
1) Are you 'really' preparing for the upcoming skills gap crisis?
Reports suggest that 65% of tomorrow's jobs do not exist yet. If this is true, learning has to be at the core of an organization's strategy. Future organizations will be those who are putting a robust learning strategy in place to build an agile and skilled workforce.
Some organizations have already started their journey on this path by way of workforce transformation, promoting learning, and offering training on new skills, in order to build a learning organization.
2) Do you know how to engage your employees?
Millennials today want content to be on demand like Uber, high quality and engaging like Netflix, having peer reviews like Zomato. The best employees increasingly care about their development; learning opportunity is one of the top reasons why millennials choose to work and stay at a company.
Business units and L&D need to work in unison to keep the employee engaged. Organizations need to create the right 'motivation' for employees to join learning programs.
3) Can you provide learning at scale?
This is a crucial factor to consider. Millennials today want to have access to personalized pathways of learning. Organizations have to figure out how best to provide personalized and collaborative learning to a distributed workforce, at affordable prices. We feel this is where online education providers like Coursera hold the key.
4) Can your decision making be fast and agile?
Many Indian companies with US and Europe facing businesses are already facing a skills crisis. It is important for all organizations to adopt a fast decision-making process, to not miss the opportunity that technological advancement has provided, and to become a future ready organization.
In this new paradigm of learning, companies, universities, and platforms like Coursera need to work hand in hand to ensure preparedness for the coming times.
If you're interested in Coursera for Business, please
contact us
.
The post
Event Recap: NASSCOM HR Summit 2017 in India
appeared first on
Coursera Blog
.
Continue reading...