As the founder of MoocLab, I am very excited and proud to announce an important milestone in MoocLab's journey - this month, we hit
10,000 registered members
. That's 10,000 people from across the globe who are interested in supporting their learning through online courses and resources or finding an online Study Buddy.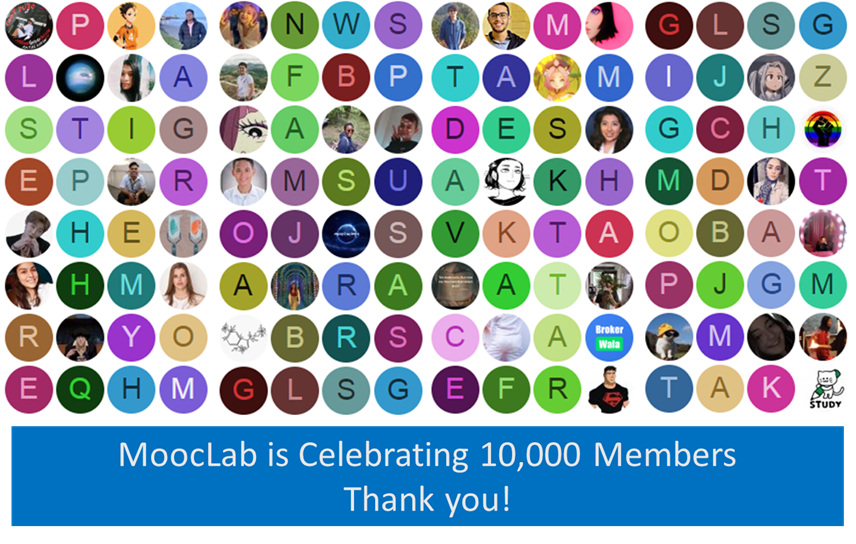 MoocLab first launched in 2014 with a mission to make online learners' lives easier by pooling knowledge, advice and support. The COVID-19 pandemic has meant that people have had to turn to a virtual world to study, upskill or find support in their educational journeys, and, as a result, MoocLab has seen a surge in member registrations over the past 12 months with a third of all our users visiting us for the first time between 8th March 2020 and 8th March 2021.
Our virtual Study Buddy tool in particular has attracted a large number of these new members. With university campuses and libraries being forced to close their doors, connecting with a Study Buddy remotely has provided students with an alternative source of learning support, companionship and accountability previously found in an in-person setting.
To commemorate this achievement, MoocLab is presenting the 10,000th member – Syreen, a medical student from Algeria – with a 10,000th Member Trophy.
Thank you for being part of MoocLab's growing and global community. Please continue to support us by interacting with your fellow members, encouraging your friends and colleagues to join, exploring any MoocLab resources you haven't yet visited and sharing ways you think MoocLab can be improved. I look forward to welcoming the next 10,000 members!