General Information
Skill Level

Introductory to Advanced
Price

$6,980 - $8,980
Languages/Skills

Version Control, HTML & CSS, Database & SQL, JavaScript, Visual Studio, C# & ASP.NET, and Project Management.
Instruction

Fully Online
Course Length

15 - 30 weeks
Accreditation

Project Portfolio
Prerequisites

No background or experience is required
Software/Hardware Requirements

None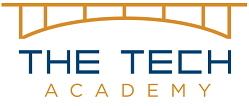 Overview
The Tech Academy is a licensed career school with a program (the Software Developer Boot Camp) that can be taken online from anywhere in the world. Campuses exist in Portland, Oregon and Seattle, Washington. Students can choose from learning coding online, attending in-person coding classes or hybrid training (a combination of learning to code online and in-person).
The self-paced program takes 15 to 30 weeks to complete and starts with computer science basics before moving on to several in-demand programming languages and skills, including Version Control, HTML & CSS, Database & SQL, JavaScript, Visual Studio, C# & ASP.NET, and Project Management. The program culminates with a real-world Live Project and students receive Job Placement training teaching how to use the skills you have learned to ensure you've got the best possible chance of getting a good job in technology.
Students can choose their own study schedule and support is provided 7 days a week from experienced Instructors.
There are no set start dates or cohorts so students can start at any time. No background or experience is required.
Pricing
$6,980 for 15 weeks access to the program.
$7,980 for 20 weeks access to the program.
$8,980 for 30 weeks access to the program.
Financing: Downpayment of $1,000-$4,000, followed by monthly payments.
Course Info
Course Cost

Low-Cost Courses
Skill Type

Technical Skills
Course Type

Bootcamps
Course Format

On-Demand
Course Language

English
Credentials

Project Portfolio