General Information
Skill Level

Beginner to Advanced
Price

$17,600 USD
Languages/Skills

R, Python, Machine Learning Theory, Big Data, and Deep Learning
Instruction

Lecture videos, slides, homework and solutions, code reviews
Course Length

3 to 10 months depending on time commitment
Accreditation

Project Portfolio
Prerequisites

Statistics and/or programming pre-work
Software/Hardware Requirements

None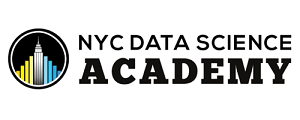 Overview
NYC Data Science Academy is an educational, training and career development organization set up by a group of data science and big data professionals. The academy provides rigorous technical and strategic training for highly motivated individuals and corporations, and offers a variety of services including full-time bootcamps, part-time courses, corporate training, consulting, and career services. We are committed to improving the data science community and all of its members.
In addition to its campus courses, NYC Data Science Academy also provides a part-time, self-paced Remote Data Science Bootcamp and a full-time Remote Intensive Bootcamp, both delivered fully online.
The Remote Data Science Bootcamp
provides a comprehensive set of materials, including lecture videos, slides, homework and solutions, code reviews, jump-start sessions, and a selection of guest speaker talks. Students complete lectures and exercises based on finely tuned schedules. Throughout the program students work alone and in teams to create four real-world projects. One–on–One tutoring, mentorship and project support is provided through online chat and video meetings with dedicated mentors. Students can choose between a 4, 6 and 10 month study schedule depending on the number of hours they can commit a week.
The Remote Intensive Bootcamp
offers live daily streamed lectures and provides access to prerecorded modules and coding questions for additional practice. Students participate in real-time interation with instructors and classmates and work on four different projects to demonstrate the skills that are deployable in the data science industry. Graduates are given access to the full resources of the NYC Data Science Academy to help them find their dream job. The full-time Remote Intensive program takes 12 weeks to complete and runs three times a year
The curriculum on both Remote Bootcamps covers the expanse of all the skills required in the data science industry - both R and Python as well as Machine Learning Theory, Big Data, and Deep Learning. The programs are built as a collaborative environment utilizing online chat and meeting systems. Students also have the opportunity to collaborate on homework, projects, job applications, interview preparation, paired programming, and even further through the extended alumni community. The academy works closely with hiring partners and recruiting firms to create a pipeline of interests for students. Each student receives one-on-one support with job searching and access to all kinds of job assistance resources, including coding reviews, interview prep, resume workshop, and access to our exclusive hiring partner network.
NYC Data Science Academy will accept applications from individuals with master's degrees or Ph.D.s in Science, Technology, Engineering or Mathematics, or equivalent experience. Some Bachelor's or non-STEM degrees will also be considered, though statistics and/or programming pre-work is strongly recommended before the bootcamp starts. People with zero coding background are encouraged to apply at least six weeks ahead of the bootcamp start date, to allow enough time to finish a solid pre-work plan.The application process consists of two steps: an online written application and a virtual or in-person interview.
The platform also offers some online courses from introductory to intermediate level in Python, machine learning and data analysis.
Tools & Features
Autograding tools
Instant feedback
1:1 mentorship
Community support
Career services
Finance options
Course Info
Course Cost

Low-Cost Courses
Skill Type

Technical Skills
Course Type

Short Online Courses
Bootcamps
Course Format

Scheduled
On-Demand
Course Language

English
Credentials

Project Portfolio