Founder at MoocLab
Staff member
Group Manager
StraighterLine, Khan Academy & Udemy top MoocLab's League Table of Free & Low-cost Online Course Providers
Online Learning Community Website,
MoocLab
, has released the
2017 Online Course Provider League Table
to help the millions of students interested in online education compare the top Providers of Online Courses.
StraighterLine
is ranked in #1 position followed closely by
Khan Academy
in second and
Udemy
in third.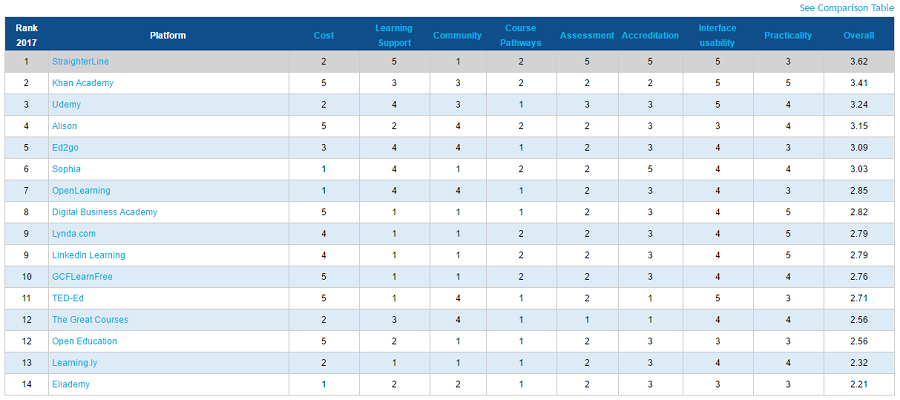 16 of the top online course providers were scored on 8 different criteria considered to be important factors for learners and learning outcomes. The 8 indicators used for scoring are as follows:
Cost
Level of support provided to aid learning
Level of activity in the learning community discussion forums
Availability of learning pathways made up of a series of related courses for more in-depth study
Form of assessment provided
Availability of credentials
Quality of the interface & ease of navigation around the website
How useful the learning outcomes are in real terms
Read more about the methodology
here
.
The interactive League Table can be used by students and lifelong learners to explore factors which are of importance to them and be guided in choosing the appropriate online course platform(s) based on the different measures of importance.
The 2017 Online Course Provider League Table is also accompanied by an interactive
Comparison Table
providing key information relating to each provider allowing users to make informed choices based on their own measures of importance.
Go to The 2017 Online Course Provider League Table>>>