General Information
Skill Level

All levels
Price

Free
Languages/Skills

HTML, CSS, JAVASCRIPT
Instruction

Text-based tutorials
Certification

None
Prerequisites

None
Software/Hardware Requirements

Computer, internet connection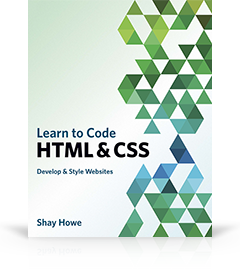 Learn to Code HTML & CSS
covers a variety of web design and development topics by way of clear and organized text-based lessons. Ranging from beginner to advanced skill levels, the site offers tutorials designed for both levels:
HTML & CSS

is a simple and comprehensive guide dedicated to helping beginners learn HTML and CSS, outlining the fundamentals and working through all common elements of front-end design and development.

Advanced HTML & CSS

takes a deeper look at front-end design and development, expanding on what is covered in the beginner's guide. Studying modern front-end development, this guide teaches the latest for any designer looking to round out their front-end skills.
Course Info
Course Cost

Free Courses
Skill Type

Technical Skills
Course Type

Tutorials
Course Format

On-Demand
Course Language

English