General Information
Best for

Beginner Students, Professionals
Subjects

Health Science, Law and Legal Studies, Economy, Technology, History, Languages, Sociology, Psychology, Pedagogy, Maths & Logic
Type of learning

Mostly academic
Course type

Free. Scheduled
Languages

Spanish (mostly), Portuguese
Certification

Certificate of Participation, Certificate of Accomplishment (paid)
Learning pathways

No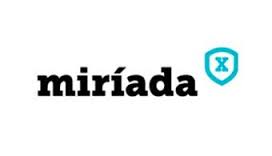 miríadaX
was created in late 2012 with a clear mission: to promote open knowledge in Higher Education in Ibero-America. A free and open knowledge that is transmitted and enriched by the network.
miríadaX
is available to anyone interested in Massive Open Online Courses for free through an open unrestricted, unconditional, no cost, no barriers platform.
It is an excellent initiative promoted by
Telefónica Digital Education
-a company specializing in providing online learning solutions for Education and Training- and
Universia
-the largest network of Spanish-and Portuguese speaking universities since January 2013 in order to encourage the dissemination of open knowledge in the Iberoamerican space of Higher Education.
MiríadaX
numbers are clear: makes available to its users and 1,345 Latin American universities a space where they can freely transfer knowledge and foster the exchange of experiences and ideas around common themes.
In this first stage of take-off and consolidation,
MiríadaX
, with participating universities, provides a multidisciplinary and general background, offering courses in a variety of themes, designed so you can follow at your own pace, where you can learn from scratch about materials that interest you, deepen your understanding or enhance your skills.
The advancement and progress of
MiríadaX
is incontestable: in the words of its top promoter,
Pedro Aranzadi
, the average number of registered students on their courses amounts to 7,000 participants, sometimes with peaks of 30,000 students in cases of courses that have achieved great success and prestige. They have a community of 1,350,000 registered students.
Tools and Features
70+ courses
Language: Spanish (mostly), Portuguese
General platform content: Astronomy | Agricultural Science | Political Science | Health Sciences | Arts and Humanities | Legal | Technology | Economics | Mathematics | Languages | Education | Psychology | Sociology and many more!
Courses totally free
Sceduled courses (start / end date)
Discussion Forums
Multiple choice assessments | Peer to Peer | Hometasks
Contents of course always accessible and downloadable
Gamification: offers Badges and Karma (prestige in the community)
Certifications
Participation Certificates: Certificates of participation are completely free and are issued automatically when each user exceeds 75% of the course modules. You can find this certificate within the "My page" in the "My certificates" section.
Certificates of Accomplishment: Certificates of Accomplishment may be issued for all courses taught in Myriad X, at the request of the user. Its function is to recognize the user who obtained the satisfactory completion of 100% of the mandatory activities of each course. They have a cost (40 € approx.) They are available from the homepage of each course.
Certificates of Accomplishment are issued by MiríadaX and backed by the college offering the course, featuring the college logo, the teaching team, and a signature. The certificate also indicates the graduate's position on the course in relation to the rest of the subscribers.
Badges (in both cases), downloadable in Mozilla Open Badges
To learn more about miríadaX ,
click here.
Course Info
Course Cost

Free Courses
Skill Type

Academic
Course Type

MOOCs
Course Format

Scheduled
Course Language

Portuguese
Spanish
Credentials

Free Course Certificates