Overview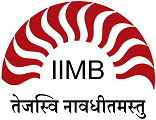 Indian Institute of Management is dedicated to excellence in education, and our vision is to be a global, renowned academic institution fostering excellence in management, innovation and entrepreneurship for business, government and society. Along with 11 disciplinary areas, we have ten centres of excellence that offer courses and conduct research on interesting questions facing various sectors of industry.
We have a vibrant Student Exchange Programme with several partner universities across North America, Europe, Asia, Australia, and South America. We have deep engagements with international networks, such as the Global Network for Advanced Management, which includes 30 eminent business schools around the world, and the Partnership in International Management (PIM), a consortium of more than 60 leading international business schools around the world.
MOOCs
IIMB have partnered with edX to deliver online courses to learners across the globe.
Learn new skills, pursue your interests or advance your career with these short online courses from IIMB:
Click on a course title to go to the course page
See more courses from IIMB on edX ►
Micro-Credentials