UPDATE: According to Coursera's Help Center, the option to subscribe to the entire Coursera catalog is no longer available: Coursera subscriptions
In Decmber 2019, Coursera introduced a new subscription model:
Coursera Plus - Coursera's New Subscription Model
Coursera
first introduced subscriptions for their Specialization Programs in
October 2016
, allowing learners to purchase access to all content in a Specialization on a month-by-month or annual basis. Subscribing gave you access to all content in every course in a Specialization, but was limited to a single Specialization. In other words, learners were charged separately for every Specialization they enrolled in.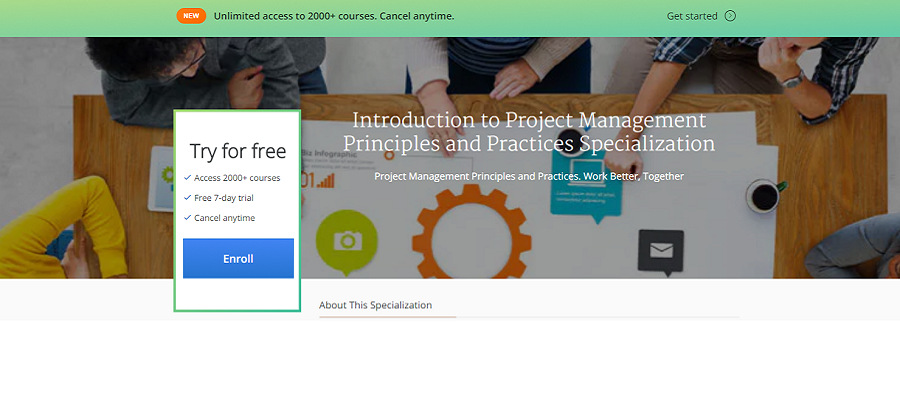 Recently, however, Coursera have changed their subscription model to give you unlimited access to all their courses. This means a subscription will allow you to enroll in the paid version of any course in the Coursera catalog. The monthly subscription is currently £37 a month which can be cancelled at any time. All subscriptions also entitle you to a 7-day free trial.

Enrolling in a full Specialization Program
By enrolling in a full Specialization, you gain unlimited access to the Specialization as well as to the full course catalog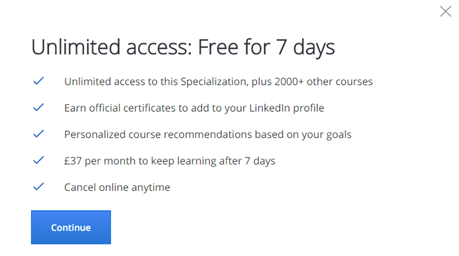 Enrolling in a single course that is part of a Specialization Program
By enrolling in the paid version of a single course that is part of a Specialization, you gain access to the course as well as the paid version of any other course even if it is not part of the Specialization. You can also choose to audit a single course for free (This option gives you access to the course content, but not to any graded assignments and does not award a course certificate)
Enrolling in a single course that is not part of a Specialization Program
By enrolling in the paid version of a single course that is
not
part of a Specialization, you will be given 3 options:
Pay a one-time fee to gain access to the single course
Subscribe to gain access to the course as well as any other course (includes a 7-day free trial)
Access the course for free which gives you access to the course content, but doesn't grant a certificate