Top Platforms offering Free Online Courses for Teacher Development
Discover the best places to find free online courses & MOOCs for teacher CPD​

After extensive research, MoocLab brings to you a compilation of the platforms offering the very best free teacher training and development courses and resources provided by some of the best universities and organisations in the world, and delivered online making them accessible from anywhere and at any time. Whether you are looking to enhance your subject knowledge, improve your teaching skills and confidence or find material to integrate into your own teaching programs, the courses and resources available across our selected providers can help you achieve your goals in your own time and at no cost.

The following table allows you to see at a glance which platforms offer the most suitable courses and resources by subject area. The providers are listed in alphabetical order and categorised into 3 types:

Click here for information on types of providers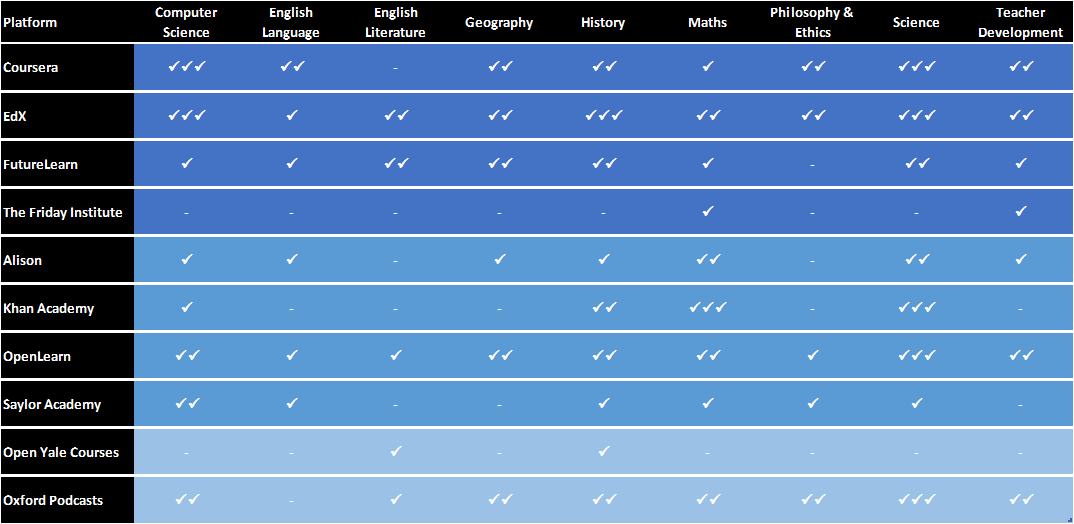 ---
---
MOOC Platforms
What's this?
---

Coursera
is the largest MOOC platform partnering with top universities and organizations to offer free online courses. With the most diverse course selection of all the MOOC providers, Coursera currently has over 17 million students and 1,800+ courses from 146 partner institutions across 29 countries. Coursera's course catalogue has a strong focus on STEM subjects, although the platform also offers courses in a diverse range of other areas including Arts & Humanities, Business, Social Sciences and Languages. The course format usually involves short video lectures, interactive quizzes, peer graded assessments, and connecting with fellow learners and instructors. All course content is free to access with the exception of graded items and course certificates. The site also offers Specialization programs as well as some options to gain college credit. Coursera is a for-profit company founded by computer science professors Andrew Ng and Daphne Koller from Stanford University.
See a full review of Coursera
---

EdX
offers MOOCs from the world's top universities, colleges and organizations. With more than 90 global partners, EdX currently has 2,300+ faculty and staff teaching over 950 courses covering a wide array of subject areas. Courses are free with the exception of professional education courses, and the platform also offers course pathways known as Xseries designed to give students a deeper understanding of a particular subject. Some programs allow learners to gain transferable credit at affordable prices. The course format includes tools, videos, quizzes and game-like labs, and learners can opt to purchase a verified certificate on successful completion of a course. EdX is based in Cambridge, Massachusetts and is a non-profit initiative created by founding partners Harvard and MIT.
See a full review of EdX
---

FutureLearn
is the first UK platform offering a diverse selection of free online courses from leading universities and internationally renowned organisations from around the world. The MOOC platform currently offers over 300 courses from over 100 partner institutions. All courses can be accessed free of charge with the option to purchase certificates, and learners wishing to master a subject in depth can also take a series of courses known as "Programs" Courses are delivered one step at a time via video, audio and reading material, with short quizzes and assignments. FutureLearn is a private company owned by the Open University, with the benefit of over 40 years of their experience in distance learning and online education.

See a full review of FutureLearn
---

The Friday Institute
is part of North Carolina State's College of Education and focuses on advancing education through innovation in teaching, learning, and leadership by conducting research, developing educational resources, providing professional development programs for educators, advocating to improve teaching and learning, and helping inform policy-making.
As part of its professional development programs, the institute offers Massive Online Open Courses for Educators, or MOOC-Eds which focus on authentic, project-based learning, collaboration, and peer-supported learning, rather than tests and grades that are needed in other types of MOOCs.

---
Online Course Platforms
What's this?
---

Ireland-based Alison is one of the world's largest free online learning websites with over 750 free courses in a wide range of subject categories offered at Diploma or Certificate level. With a section dedicated to Schools Curriculum, the site hosts a large number of courses developed for schools by educational experts. The course format includes PowerPoint type slides & some videos, quizzes & tests. Some courses have assessments throughout; most have just one at the end.

See a full review of Alison
---

Khan Academy is one of the leaders in free online education, with a primary focus on K-12 level education. It offers a personalized learning resource for all ages with practice exercises, instructional videos, and a personalized learning dashboard that empower learners to study at their own pace in and outside of the classroom. In addition, the platform provides teachers with a tool specifically for K-12 maths teaching in the classroom.
Khan Academy is a non-profit US-based company that relies on a community of thousands of volunteers and donors.

See a full review of Khan Academy


---

OpenLearn is the Open University's access point for its open and free online resources, with the aim of providing free online education, open to anyone, anywhere in the world. The courses are geared towards an undergraduate level of study, and operate on four levels - introductory, intermediate, advanced and masters – and include interactive tools, video, games, podcasts, articles and quizzes. Many of the free courses are based on Open University course materials, and others are written specifically for OpenLearn.
For those wishing to develop their teaching skills, the site also hosts a number of professional development courses for teachers as well as courses in Educational Practice and Educational Technology.

See a full review of OpenLearn
---

Saylor Academy provides free, open, university-like classes in partnership with colleges, universities, and businesses. The Academy provides over 300 standard and college credit-aligned courses at the K-12, university, and career levels. All courses are self-paced and are designed to mimic actual college courses, offering free-to-share and free-to-reuse materials whenever possible. The courses are made up of curated collections of materials openly available on the web – webpages, videos, downloadable documents, assignments & quizzes, culminating in a final exam.

See a full review of Saylor Academy
---
Open Courseware
What's this?
---

Open Yale Courses provides free and open access to a selection of introductory courses taught by distinguished teachers and scholars at Yale University. All lectures were recorded in the Yale College classroom and are available in video, audio, and text transcript formats. The integrated web interface allows users to audit Yale undergraduate courses if they wish to. It also gives the user a variety of other options for structuring the learning process, for example downloading, redistributing, and remixing course materials.

See a full review of Open Yale Courses
---

University of Oxford Podcasts provides open content under a Creative Commons licence free for reuse, remixing and redistribution in education worldwide, and features public lectures, teaching material and interviews with leading academics.
All the material is arranged within a series of related talks or lectures and may be in audio, video or document format.


---
Continued Professional Development
---

Study Groups for Teacher CPD

The above list of online platforms offer a fantastic selection of free online courses to enhance your knowledge, build teaching skills or to enrich your own teaching programs. But it takes precious time to search through their course lists to find the ones that are relevant to you.

To save time searching for the right courses across all these different platforms, MoocLab's Teacher CPD Study Groups provide a handpicked list of free online courses and resources selected by subject area. By joining a Study Group, you also get to meet and interact with other teachers with similar goals and interests from across the world. Learning from each other's experiences is also a great way to develop as a teacher. Join now