When browsing courses offered on MOOC platform
Coursera
, you'll notice that some course and Specialization pages are now marked with a badge stating "Included with Coursera Plus".

Coursera Plus is a new subscription option that lets you pay an annual fee to access the majority of the courses, Specializations and some Professional Certificates on Coursera with no limit to the number of courses you can enroll in or Course Certificates you can earn. Courses granting credit, such as Degree and MasterTrack courses, and some Professional Certificates are not included in Coursera Plus.
The cost of subscribing to Coursera Plus is currently GBP £387 (or equivalent) billed annually - equivalent to GBP £33 a month for 12 months. To subscribe to a single Specialization, Coursera charges £38 a month for the time it takes to complete the program.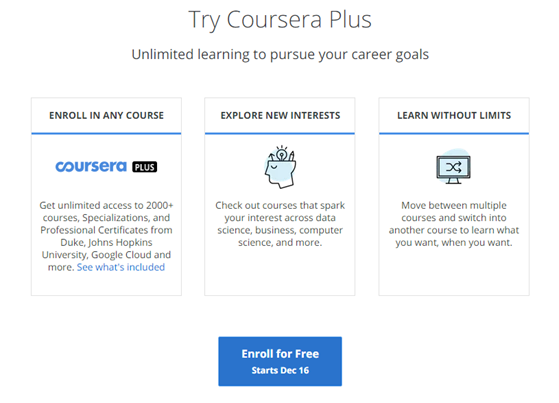 How does it work?


Individual Courses (Not part of a Specialization)

If a course is included in Coursera Plus, you'll see the Coursera Plus badge on the course page. Click on the "Learn More" link which will open a new page with details about the subscription. To enroll, click on the "Enroll for Free" button.

Clicking on the "Enroll for Free" button will open a popup with the option to choose between a one-time payment for the course, subscribing to Coursera Plus or auditing the course for free ("Full Course, No Certificate" option).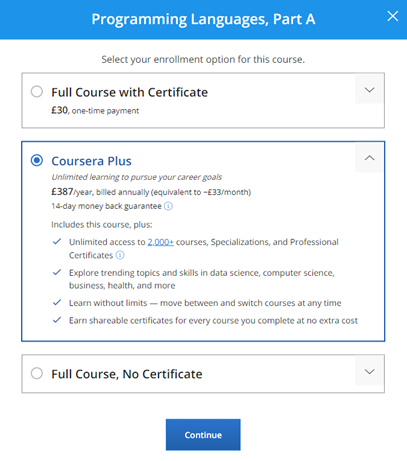 Select your preferred option and click on "Continue" If you select either of the paid options, you will be asked for your payment card details.
Specialization Courses
If a course is part of a Specialization, you will be given the option to subscribe to the Specialization only, subscribe to Coursera Plus or audit the course free of charge.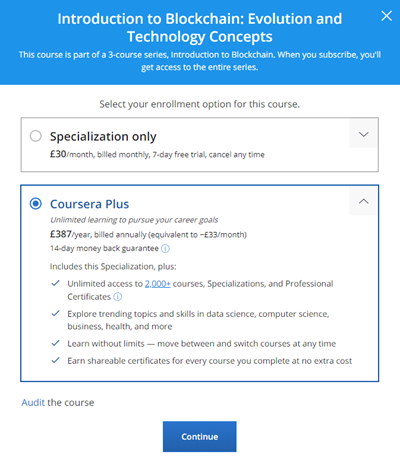 If you enroll in a full Specialization program, you can choose to subscribe to the Specialization or to Coursera Plus. You cannot audit a Specialization program, only the individual courses that are included in the program. The same applies to Professional Certificate Programs.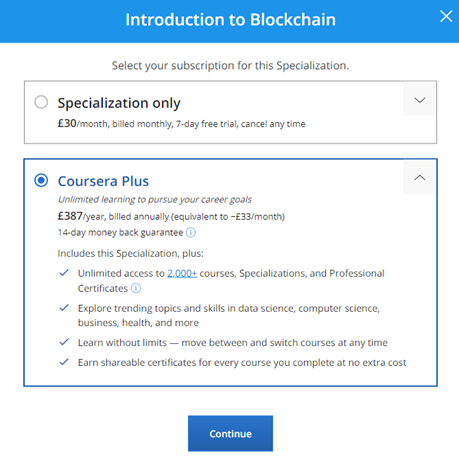 To see all courses & content available on Coursera Plus,
click here
.