Official Account
Group Manager
There are two ways to show prospective students what qualifications you have:
In the Qualifications section of your resource page:
This section allows you to list your relevant qualifications with any additional details you may wish to add.
Example: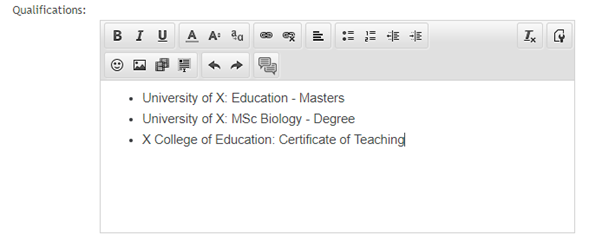 Uploading documents & certificates:
When setting up your resource page, you have the possibility to upload images of any relevant documents or certificates which will be visible to students on your resource page. To do this, use the "Upload Images" button at the bottom of the resource set-up page.
IMPORTANT: Any qualifications that you list on your resource page must be verified by MoocLab staff before your page is approved and published.
See
How do I verify my credentials?
See also:
What types of certification or credentials are required for a Qualified Teaching Profile?